Internet Modeler : First Look : Aviation
RSS News Feed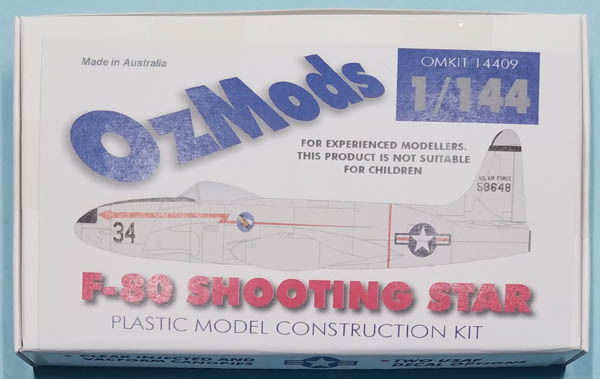 OzMods 1/144 F-80 Shooting Star
Overview
OzMods has been releasing 1/144 aircraft models for some time. Their first releases were made of a very hard, gray plastic that wasn't very easy to work with. You definitely wanted to remove the parts from the sprue with a modeling saw, otherwise you ran the risk of chipping and breaking the parts around the sprue gates.
OzMods has now changed the type of plastic used that could be better to work with - hopefully I'll know more, soon. Granted, you still want to saw the parts away from the sprue because of the large sprue gates, but there may be less issue with chipping and breaking due to the type of plastic used. This time OzMods has re-released their F-80 Shooting Star with this new plastic, along with new decals and two vacuum-formed canopies as well as one clear, injected canopy to be used if wanted.
The Kit
The OzMods 1/144 F-80 Shooting Star consists of 29 pieces of white, injected plastic; two vacuum-formed canopies (an extra, "just in case"); one clear plastic injected canopy; and a decal sheet for two F-80s:
United States Air Force F-80B-I-LO Shooting Star, 22nd FS, 36th FG, Seen in Malta during 1949
United States Air Force F-80 Shooting Star, 412th/1st FG
The decals are nicely printed and appear to be in register.
Most parts will need clean-up, but that's to be expected with a short-run release. Take your time cutting the parts away from the sprue. The cockpit consists of a tub, seat, control stick and instrument panel. Note that there are no decals for the instrument panel nor seat belts. Once the cockpit is assembled then it can be glued to one fuselage half and the halves glued together.
Important note: the kit mentions nothing about nose-weight to keep the model on its nose landing gear. I would be surprised if it didn't need any, so be sure to add weight prior to gluing the fuselage halves together. There is plenty of room for any weight needed.
Now you glue the one-piece wing and horizontal tail pieces to the kit, along with the canopy, either vacuum-formed or injected plastic. If you decide to use the injected plastic canopy you'll need to work on the fit; the kit was designed using the vacuum-formed canopy and the new, injected canopy is specific to these newly re-released kits. The last step has you glue the landing gear to the undersides which is best left until after painting.
The kit comes with two types of wing-tip, external fuel tanks, but no other ordnance is included. Instead, OzMods points you to their separate weapon sets if you want to equip your Shooting Star with any other type of underwing ordnance.
Conclusion
With plenty of patience, this kit should result in an excellent looking F-80 in 1/144. There are a lot of opportunities with this kit so research the subject you want to model and have at it. You'll have a 1/144 F-80 on your shelf in no time.
Huge thanks to OzMods for sending this in to review. I do hope to start on it soon.