Internet Modeler : First Look : Aviation
RSS News Feed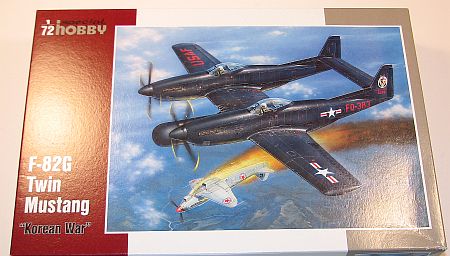 Special Hobby 1/72 North American F-82G
Introduction
Most people know of the North American F-82 "Twin Mustang", and most of those people know that it wasn't really two P-51 Mustangs cobbled together.  Instead, it was an entirely new design that was built for the USAAF (at the time) to provide a long-range fighter for bomber escort during World War 2.  The war ended before the first production examples were operational, so the USAAF (and later USAF) changed the aircraft to be primarily a night-fighter, phazing out the P-61.
One of the Twin Mustang's claim-to-fame was it was the first US aircraft to shoot down enemy aircraft during the Korean War.  In fact, the first three kills were by F-82s.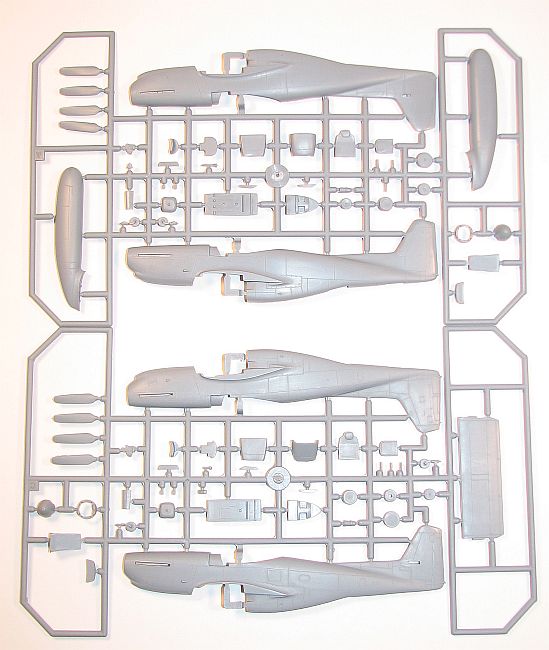 Long ago Monogram released the F-82 in 1/72 and is still considered a decent-enough model, albeit with raised panel lines and little-to-no cockpit detail.  In fact, it has been recently re-released (by Revell) and at least one company (Starfighter Decals) is planning on aftermarket accessories for the Monogram/Revell kit.  So, it's still a viable kit.  However, plenty of people have been waiting for the announced Special Hobby F-82, hoping it would better the venerable Monogram/Revell kit.  Even though I've read there are some minor inaccuracies with the Special Hobby kit (which I'm not going to get into, except for the propellors) it's still an excellent kit, one well worth the wait.
The Kit
The Special Hobby 1/72 North American F-82G consisits of 101 pieces of injected, grey styrene, 7 pieces of resin, four clear pieces (two canopies and two lights) and a photoetch fret with 31 parts on it.  There are decals (nicely printed and in register) for three aircraft, all overall gloss black:
F-82G Twin Mustang, FG-383/6383, pilot Lt. William "Skeeter" Hudson, r/o Lt. Carl Fraser, 347th F(AW)G, 68th F(AW)S, Itazuke AB, Japan, June 27, 1950
F-82G Twin Mustang, FQ-363/6363 "Siamese Lady", 347th F(AW)G, 68th F(AW)S, Suwon AB, Korea, 1951
F-82G Twin Mustang, FQ-400/6400 "Call Girl", 347th F(AW)G, 4th F(AW)S, Naha AB, Okinawa, 1950 and was the personal mount of Col. John Sharp, the CO of 4th F(AW)S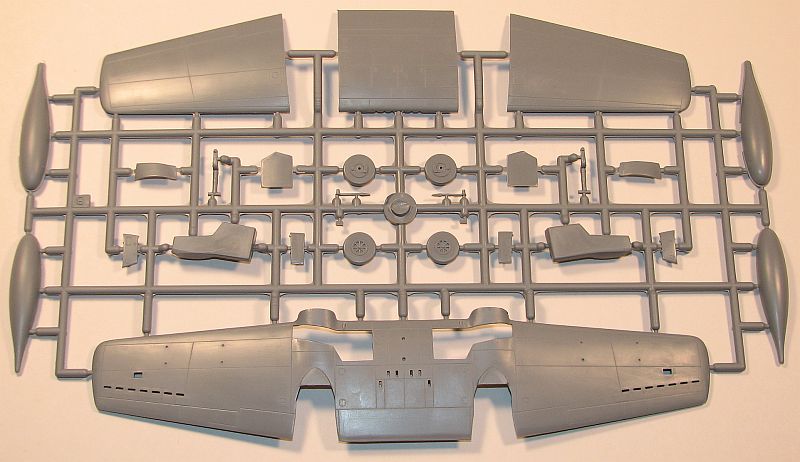 Resin supplies three parts for the interior (including the gun sight), exhausts and two under-wing rocket pylons (although there are no rockets in this kit).  Photoetch is used not only in the cockpit (supplying seat belts, etc.) but also some exterior parts, like oleo scissors.
Construction starts with the cockpit and it's pretty nice, definitely all you need if you keep the one-piece canopies closed.  Plenty more detail than I remember in the Monogram kit and could be enough for most, even if cutting apart the clear pieces and displaying the sliding portion open.  Unusually the tail wheel (with gear leg molded in-situ) are molded in halves and need to be glued together.  Maybe it's the best way to handle the detail.  After both cockpits are finished and the fuselage halves glued together, construction then moves onto the wing.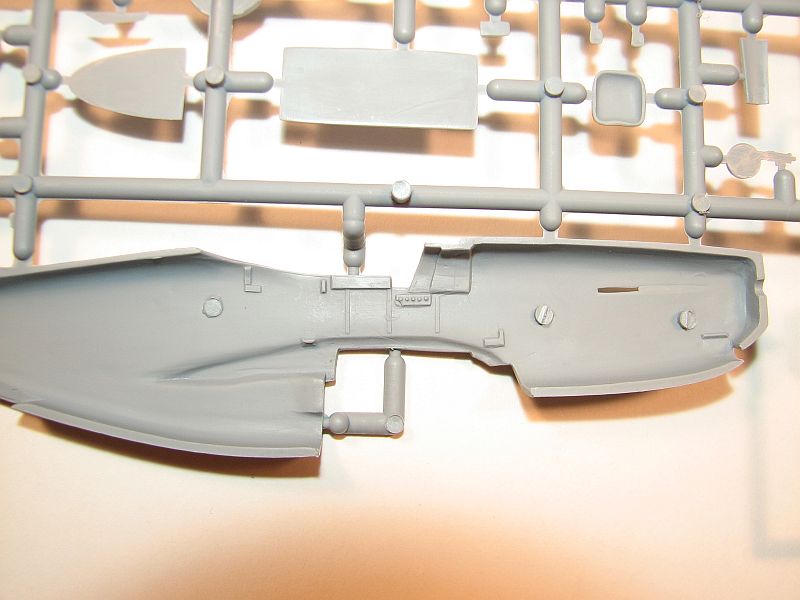 The instructions have you glue each of three upper wing pieces to the one-piece lower wing, but I would check the fit first.  I'm guessing that you could probably get a better fit by gluing the lower wing first to each fuselage (how to keep all three together is an unknown) and then gluing the upper wing pieces on.  However, this is purely conjecture at this point.  At this stage you also glue the horizontal tail to each fuselage.
The last two steps of the instructions have you glue on various items to the mostly-completed airframe.  I would definitely hold off on adding such things as landing lights, weapon pylons, landing gear and gear doors, etc. until after painting and at the very end.  Less chance of knocking any of these items off.  In addition, some of these items are painted different colors, like the underwing gas tanks for "Call Girl".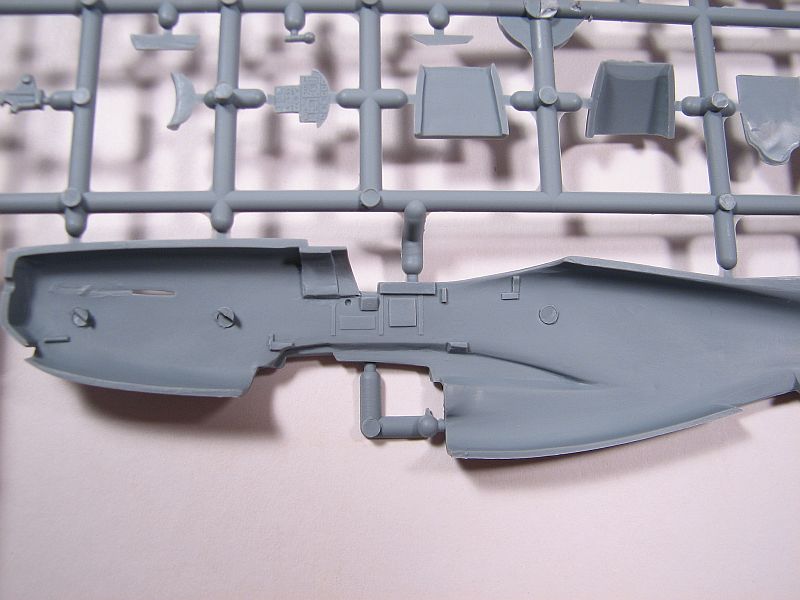 Some might think it unfortunate, but the props have to be built up, gluing each blade to the spinner backing plate, and then adding the rest of the spinner pieces to that.  This is a place where having the
UMM-USA Prop Master
a sound idea.  However, the problem is Special Hobby doesn't illustrate that the props don't spin the same.  One is a left-hand prop, the other a right-hand one.  You'll have to pay close attention when assembling the props (if, in fact, the prop blades will actually be correct if glued for the different "handings").  This is one area Monogram/Revell has correct.
Conclusion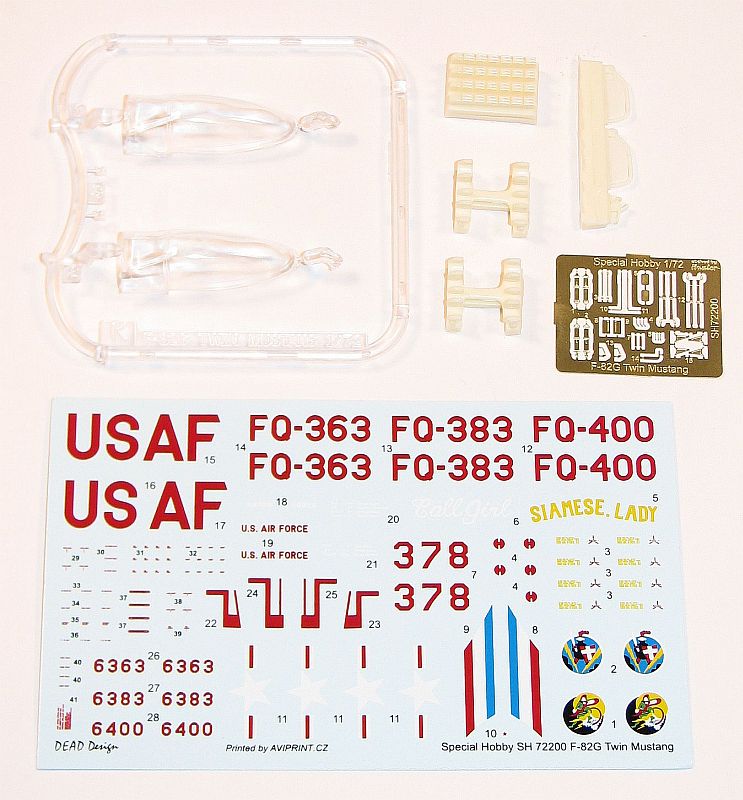 All-in-all a most welcome addition in 1/72.  While some will argue its merits over the Monogram/Revell F-82, I feel the Special Hobby kit provides much more than the old Monogram war-horse.  If you're looking for a "state-of-the-art", modern kit of the F-82G, then the Special Hobby kit is definitely what you want.  If you want to build an F-82 without investing time in re-scribing, adding (scratchbuilding, because no aftermarket exists for the kit) cockpit detail, along with a bunch of other stuff that's needed, then you'll want the Special Hobby kit.  I feel it's well worth tracking down.  Maybe if you want to build multiple Twin Mustangs then you'll want the Monogram kit, but at the same time pick up a Special Hobby kit, for that one, "special" marking.
I hope in the future to be able to look at the upcoming Starfighter Decal release for the Monogram F-82 and see if it can be used on the Special Hobby kit.  I suspect there could be enough differences between the kits that it will be difficult, but I still want to check it out.  I really want to build the Kearney AFB, NE, bird that Starfighter is bringing out, and want that model to be the Special Hobby one.
Many thanks to Roll Models for supplying the review kit.