Internet Modeler : First Look : Aviation
RSS News Feed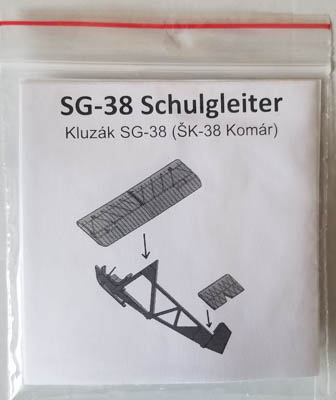 ViZi Models 1/144 SG-38 Schulgleiter
Introduction
Taken from Wikipedia:
"The Schneider DFS 108-14 SG-38 Schulgleiter (German for '"school glider"') is a German high-wing, cable-braced, single-seat primary glider that was designed by Schneider, Rehberg and Hofmann at Edmund Schneider's factory at Grunau in 1938, hence the designation. It was produced by several builders, including Deutsche Forschungsanstalt für Segelflug (DFS)."
The Kit
The ViZi Models 1/72 1/144 SG-38 Schulgleiter consists of 3 pieces of gray, 3D printed resin and decals for gliders flown by post-war Germany, Czechoslovokia and Lithuania. Most were left natural so the flying surfaces were clear-doped finished and the "fuselage" left in natural wood.
This will not be a difficult kit to build. Once the parts are removed from their sprue then you glue the wing and tail to the fuselage and that's it. The difficulty lies in the rigging as this was a fully-rigged glider.
Internet Modeler contributor Angus McLaren did a wonderful job with his on the Kampfgruppe 144 BBS so be sure to take a look at his on how to finish the model and rig it.
One thing, though. There are no instructions included with the kit, which also means there are no profiles for the schemes included with the kit. Instead, they point you to Special Hobby to use their profiles for the ViZi schemes. I think I found the correct profiles here.
Conclusion
I would say this could be an AMS-buster if it wasn't for the rigging. Still, if you decide not to rig it, you could definitely finish it in an evening.
Many thanks sent to ViZi Models for supplying the review model.