Internet Modeler : First Look : Aviation
RSS News Feed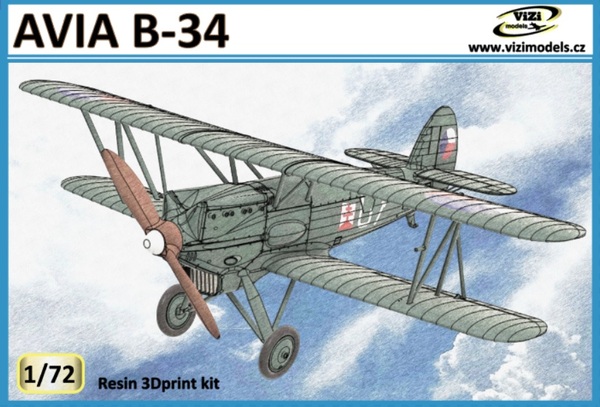 ViZi Models 1/72 Avia B-34
Introduction
Taken from Wikipedia:
"The Avia B-34 was a biplane fighter aircraft built in Czechoslovakia in the early 1930s. It was the first design of František Novotný for the Avia company and although built only in small numbers, it paved the way for the Avia B-534."
There were twelve B-34s made for Czechoslovakia.
The Kit
The ViZi Models 1/72 Avia B-34 consists of 27 pieces of gray, 3D printed resin, a sheet of two windscreens (which you'll need to fold yourself, and an extra "just in case") and decals for one B-34, machine "G7". The decals are nicely printed and appear to be in register.
As with most 3D printed kits, the most time will be spent cutting the parts from their sprue and cleaning up those attachment points. Take your time, though, as the very nicely printed in-situ cockpit sides are also attached to sprue, as are all the smaller parts. But once the parts are separated construction should go quickly.
ViZi Models provides a seat, instrument panel, control stick and rudder pedals for the cockpit; as I mentioned above, the cockpit detail printed into the fuselage sides is remarkable and all there. In fact, ViZi Models even printed the flare gun mounted in the framing on the staboard side. Nice! With the proper painting, along with a wash and dry brush, this should make these parts really pop. Unfortunately ViZi Models doesn't include color call outs for the cockpit but it appears the fuselage sides were left linen-colored while the framing is a darker color, maybe even black.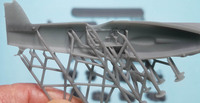 Once the cockpit is finished and glued inside the fuselage, then the fuselage halves can be assembled and the rest of the major assembly should go quick. The one-piece landing gear is very nice and should make it easy to finish that area. The one-piece underside radiator is also very nicely printed and will look great once attached. I definitely would leave off all struts - and upper wing - until painting and decaling are finished.
Unfortunately ViZi Models doesn't include a rigging diagram so best to look for that on your own. A good place to start is this Czech forum thread on building a 1/48 example.
Conclusion
It actually shouldn't take long to finish the ViZ Models Avia B-34. Since there are just two colors to it - Czech khaki on top and aluminum doped undersides - the painting will be simple. Once finished, you'll have a very unique model added to your shelves.
Huge thanks to ViZi Models for the review kit.