Internet Modeler : First Look : Aviation
RSS News Feed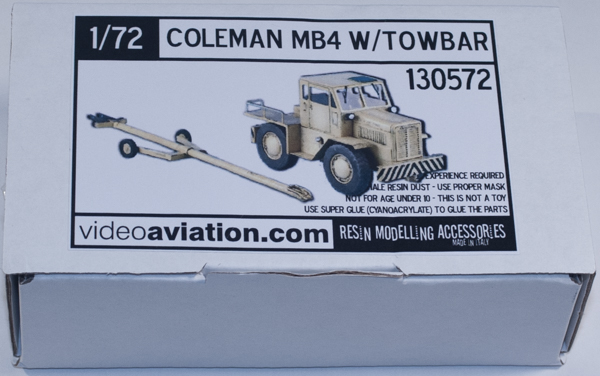 Videoaviation.com 1/72 Coleman MB-4 Tow Tractor
The Coleman MB-4 Two Tractor was a common sight on USAF bases during the Sixties, Seventies and Eighties, and was used as the primary vehicle for towing aircraft around an air base. If you're looking to create a diorama in this time frame on a USAF base then you might want to pick up this model.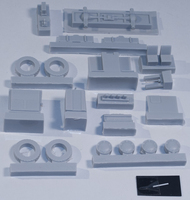 The videoaviation.com 1/72 Coleman MB-4 consists of 31 pieces of resin, a clear fret with eight windows on it and a photoetch fret with 19 pieces of brass on it. There is also a decal sheet consisting of just the basic markings: warning stripes, U.S. Air Force and Coleman text, and PSI information for all four tires.
Construction won't be too difficult; the most you'll need to work on will be the photoetch since the main cabin is a single-piece, fold-up affair. You'll glue the "bumpers" to the frame and follow that up with adding more of the structure to that assembly. This is followed by the seats and dashboard, steering wheel and column, gear shift and fenders. After adding what appears to be a tool chest to the right front fender then you start folding up and adding the photoetch. After the cabin is added to the truck the wheels and tires are glued together and then added to the tractor as well. Finally the last instruction step is to assemble the tow bar.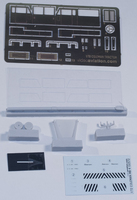 Painting is super easy. If you're building it "early" then it was yellow. Later in its career it was painted overall olive drab so definitely track down photos of the era you're building to be sure what color you need. When I assemble this I plan on painting in stages. I'll assemble the bumpers to the frame and then paint it and the other main pieces of the tractor before gluing them all together. Then as new pieces are added those also will be painted prior to gluing them on.
An important note on the instructions as you fold and build the main cabin: "Paint the cabin before place[ing sic] the clear parts". Truer words have never been spoken. I'm looking forward to building this and at least displaying it next to my Cold War jets.
Huge thanks to videoaviation.com for sending the tractor to review.