Internet Modeler : First Look : Aviation
RSS News Feed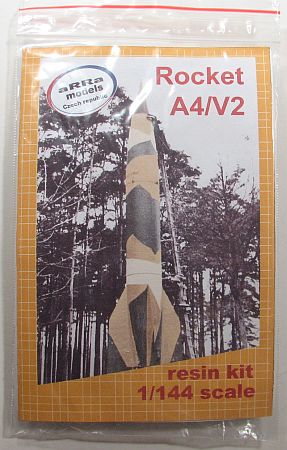 aRRa 1/144 Rocket A4/V2
Introduction
Not much needs to be said about the famous (infamous?) V-2, being an instrument of WW2 that brought terror during wartime. I'm glad we finally have a model of it (I believe the first in the scale, although I could be wrong) in 1/144, plus I'm equally happy it comes with its own launch base.
The Kit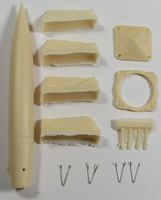 There isn't much to aRRa's 1/144 V-2. There are 19 pieces of cream-colored resin, and four pieces of bent metal, for the base. Parts are decently done, although I do have a surface flaw in the rocket body that will require work (although nothing that should be a problem). The rest of the parts appear to be nicely cast and I can only find a couple of air bubbles that probably will not cause problems (which I'll understand more, once I start building it).
Once any clean up is accomplished, assembly should be quick. Glue all four main-fins and control-fins to the rocket body (note that the control-fins are missing from the parts photo), and it's finished. Once all four legs are glued to the bottom of the launch base, then the top can be added followed by the four wire supports.
Now your aRRa 1/144 V-2 is ready for painting, and after painting, final assembly. Not much to the kit.
Conclusion
An excellent rendition of this most in/famous war-time rockets. aRRa's 1/144 V-2 should be an easy build, and could probably be finished in a weekend.
Huge thanks to aRRa for supplying the review rocket.