Internet Modeler : First Look : Figures
RSS News Feed

CGD 1/144 WW2 Luftwaffe Ground Crew
Introduction
With 3D printing really taking off, almost anything is possible. Combat Group Dynamix (CGD) is one company taking advantage of 3D printing in a big way, in primarily 1/144 scale. Not only have they released a multitude of armor in 1/144, but also small bases, diorama bases and even figures. The figure sculpting is top-notch and with the right type of painting, the figures really look life-like. In fact, CGD takes it to the next level that if you so want, they'll send you their figures, pre-painted.
The Figures

This is – I believe – the first set of figures released by CGD in 1/144 specifically for aircraft. There are two sets of figures and both sets are completely different. You have the option of purchasing the figures unpainted, or painted by CGD. It was this option they sent.
Figure Set A consists of two men, hauling a bomb-laden trolley; another trolley with neither "men" nor a "bomb"; and finally five separate bombs.
Figure Set B consists of one man standing; one man kneeling; one trolley with a bomb but no men; and a bomb-laden trolley being hauled by one man.

You can see in the photos the pre-painted figures are very nicely finished; the only areas I personally don't like are the faces. With typical figure-face-painting techniques, you can really make the features stand out, other than painting the face with a "flesh-colored" paint, which CGD has done. Granted, for most, it's enough, especially in the scale, but not enough for some. I will try to enhance at least one of the faces, but as I am not a figure painter, I'm unsure of how it will turn out.

I took a bit of creative license with displaying the figures. I had already finished
Eduard's 1/144 Czech Avia CS-92
and since that's the only aircraft on my completed shelves these figures could work with, I decided to show some of them placed around the CS-92. I think everything together looks great, and I have another Eduard Me 262 to be built that I may just create one display with that as the center piece and some of the figures surrounding it. (Or, I may use the Eduard Ju 52 and modify it into a bomber and go from there.) The options these figures can be used in are only limited by your imagination.
Conclusion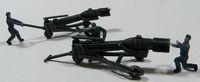 These are two great sets of figures, and if you're looking for something to enhance a diorama or display of your Luftwaffe bombers, then by all means pick these up. Heck, if you want, CGD will even paint them for you! For those of us with little free time, that is definitely a saving factor.
Huge thanks to Combat Group Dynamix for sending these figures to review.