Internet Modeler : First Look : Figures
RSS News Feed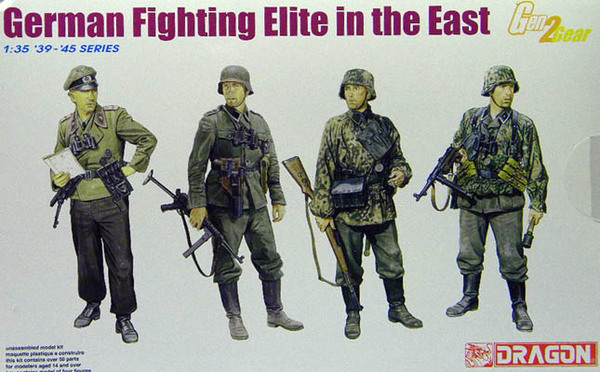 Dragon 1/35 German Fighting Elite in the East
Kit# 6692

MSRP $15.95

This is a four figure set of mixed uniforms and styles.  Included are one figure in a panzer wrap style uniform, either tank or assault gun commanding officer, one in the early style tunic and trousers, and two in the early style pull-over Waffen SS smocks.  Front and rear views of the assembled figures are on the back of the box, showing part numbers, and a single view of the painted figure, showing paint color numbers from Gunze Aqueous Hobby Color, Mr. Color, and Model Master.

All four figures are comprised of six pieces, plus their gear and accessories.  All exhibit excellent surface detail; smock laces, wrinkles, etc.  All the gear is not strictly Gen2, for example the rifles are one piece, versus those with separate bolts, or slide molded barrels.  The MG-34 and MG-42 do have slide molded muzzles and separate top covers.  There is also a very nice holstered "broom handle" Mauser automatic pistol, as well as two flare pistols, one open and ready to load.  A well detailed flare cartridge pouch is also included.  Surprisingly, there is a fine halo of flash around some of the caps, necks, hands, etc.  Easily removed, but not usually seen on figures from this
manufacturer.  Overall this is a very nice presentation; not a ready-made vignette, but useful figures and equipment none the less.  This reviewer says well recommended, and is very glad to add it to his collection.  My sincere thanks to Dragon USA for my review sample.