Internet Modeler : First Look : Figures
RSS News Feed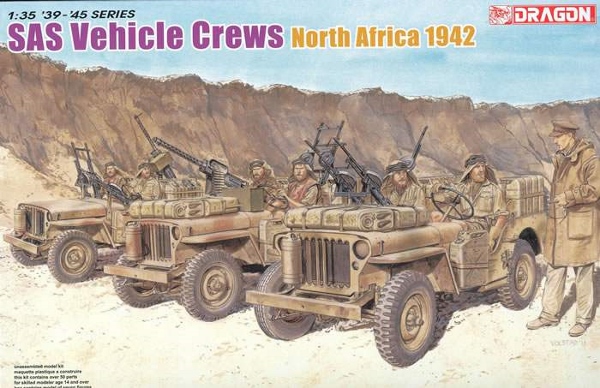 Dragon 1/35 SAS Vehicle Crews North Africa 1942
This is a guest review, written by my close friend and master modeler Greg Metge.  He agreed to write a review and take photos of this kit so it could be gifted to a mutual friend.  So, without further ado, take it away, Greg.
DML Kit # 6642    SAS Vehicle Crews North Africa 1942
MSRP $22.95 (Squadron)
94 parts
The trend continues; Re-box, add a little something and send it out as "new".  This offering contains six 'mix and match' seated SAS figures and a standing officer depicting Colonel Sterling with box art from a famous post-action photo.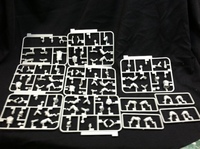 The figures are fairly well sculpted and given other SAS vehicles in need of good figures, they are a welcome addition.
Two of the six figures are also in DML SAS vehicle kit #6724 (showing Sterling but alas, no Sterling in that kit). These guys are in shorts and have rolled up sleeves. The other four  troopers are wearing long sleeves and long pants. Two of them sport gherkins as well.  All of the seated six wear the keffiyeh or shemagh head covering with agal bands.  These are crisp and in multiple parts to approach scale thickness and detail.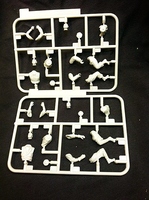 The facial detail is adequate for injection styrene. Figures A (Sterling), B and G are the best of the lot.  Figures B and G have beards in raised relief.  Seated figures C, D, and E are fair but not noteworthy.  Last and least is figure F whose face is blurred.
All of the uniforms have appropriate wrinkles and folds but would need to be sanded to conform to most surfaces.  Leg part G8 on the instructions is G6 on the sprue.
To be critical, there are no painting instructions save the box art. Second, you may already have some of these brave fellows in other DML SAS kits.  Third, there are no action poses.  It would be nice for diorama makers to have a figure manning an MG or tossing a grenade, or just moving about.  Fourth, there are no weapons or personal gear  included  (nice to pile on the jeep).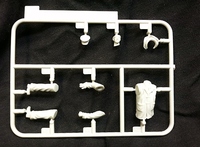 That  aside, this is still a nice addition just to get the Sterling figure. Add these figures to SAS desert vehicles that come with poor figures or those unmanned  ones in need of a crew.
Thanks Greg, for your insightful review.  As always, thank you to Stevens International for supplying this review kit.