Internet Modeler : First Look : Figures
RSS News Feed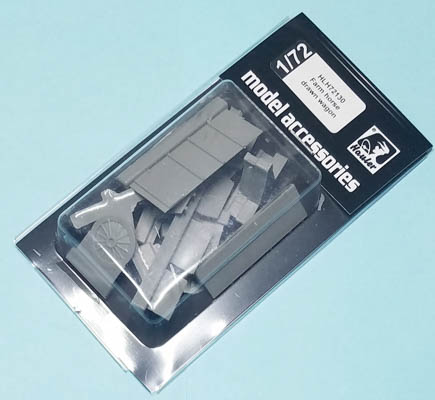 Hauler 1/72 Farm Horse Drawn Wagon
Overview
Haluer has been releasing plenty of items that can be stand-alone models, or put to use in a diorama. That's what I hope to do with their Farm Horse Drawn Wagon.
The Resin
The Hauler 1/72 Farm Horse Drawn Wagon consists of 15 pieces of resin cast in gray. The most difficult aspect of this kit will be removing the axle assemblies from their pour blocks. Use plenty of patience and check your progress frequently.
Once all pieces are removed from their pour blocks then assembly will go quickly, for the most part. Assemble the wagon body from seven different pieces, then glue the axle assemblies together with a central shaft. Add that to the bottom of the wagon body then add the wheels. Of course you'll want to do that after painting each major assembly: paint the wagon body separate from the axle assembly before gluing them together. One thing you'll need to do, though, is remove the resin webbing from between the wheels' spokes. Another area where patience and a sharp knife is necessary.
Whether you plan on having this wagon stand on its own, or as part of a diorama/display, it's a great addition to your modeling shelves.
My thanks to Brengun for sending this wagon to review.