Internet Modeler : First Look : Figures
RSS News Feed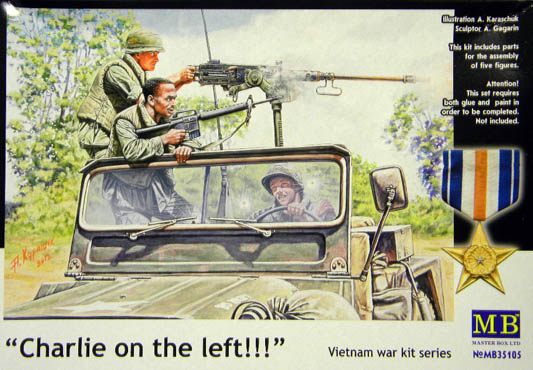 Master Box 1/35 Charlie on the left
Kit # MB  35105
MSRP  $14.95
This is a five figure set, molded in tan styrene, on one sprue. Assembly and painting instructions are combined in a full color rendering on the back of the box.  Part numbers are shown for each figure, including alternate parts, such as headgear and personal equipment.  Color numbers are called out for Vallejo paints. Included is a G.I. firing the .50 caliber machine gun, one armed with an M-16, one optional pose driver, a Viet Cong reeling backward from a hit, and one kneeling down and gesturing.  An alternate arm is provided, intended to portray the driver as having been wounded.
Weapons included are a holstered .45 pistol, 2 M-16 rifles, an SKS carbine, an AK-47, and a .50 caliber machine gun on a post mount, suitable for a jeep or truck.  The well detailed .50 includes a 2 piece ammo box, grips, and a short ammunition belt to reach from the box to the weapon.  The faces are well animated, 3 with open, yelling expressions.  The Oriental features on the two Vietnamese are clearly recognizable, and display a lot of emotion as well.  A nicely textured woven "coolie" hat is furnished for one of the VC fighters.  Uniforms are well detailed, with nice wrinkling, rolled sleeves, load bearing belts and straps, etc.  Each figure consists of six parts, plus weapons and equipment.  My sample showed no flash, no surface flaws at all except for some barely discernable dimples on the M-16 stocks.  Mold seams are very fine and easily removed.  Test building of one figure revealed excellent fit when assembling as shown on the box.  I found this kit to be a well executed set of figures, well worth the purchase price.
As with many Master Box sets, diorama or vignette ideas abound.  Well recommended.  My sincere thanks to Stevens International for supplying this kit for review.  Happy modeling.