Internet Modeler : First Look : Figures
RSS News Feed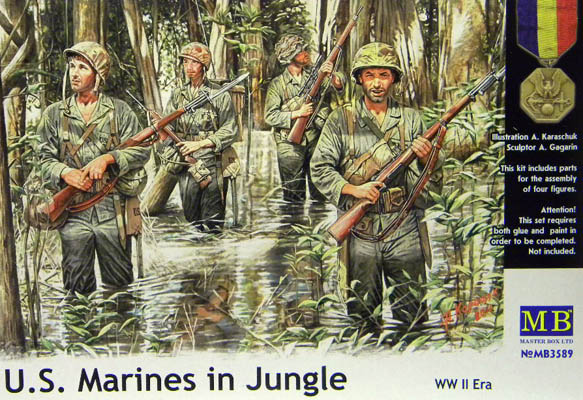 Master Box 1/35 US Marines in Jungle
Kit # MB 3589
MSRP  $17.95
A nicely posed, 4 figure set of U.S. Marines advancing cautiously, with 3 of the four looking up and in different directions, as though probing cautiously forward in the jungle of some South Pacific island.  One carries a backpack radio and is armed with an M-1 carbine; two with M-1
Garands with bayonets attached, and one with a 1903 Springfield rifle fitted with a telescopic sight.  Ammunition bandoleers are slung around two figures, being of 2 piece construction to ensure a good fit.  They are figure specific, so pay attention.  Full personal gear is provided, including grenades, a machete, K-Bar fighting knife, canteens, rucksacks, etc. The radio is well detailed, consisting of five parts including handset.  The only oddity is that the '03 Springfield appears to lack a bolt; there is a gap under the scope.  This could be fixed with a small piece of stretched sprue, but it will present a decidedly odd appearance if not corrected.  The set is molded in tan styrene, devoid of flash , and exhibiting well defined straps, wrinkles, folds, etc.  As stated previously, some large gear items are keyed to individual backs, ensuring that they line up correctly.  All four faces show distinct expression differences, with well defined features, making the painter's job that much easier.
This set, well built and painted, and placed in a "jungley" setting, is an instant vignette, just waiting for a builder.  This reviewer gives two thumbs way up, well recommended.  Very few figure sets of South Pacific Marines exist in injection molded form.  This set is a welcome addition.
My sincere thanks to Stevens International for my review sample.