Internet Modeler : First Look : Figures
RSS News Feed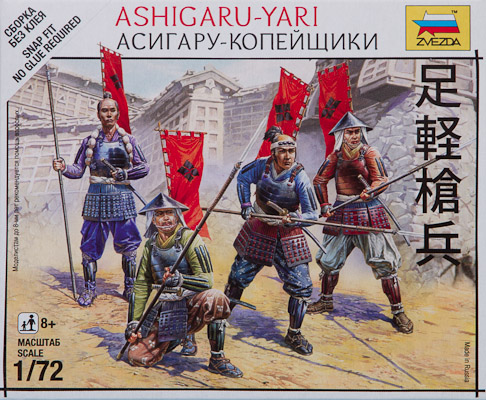 Zvezda 1/72 Ashigaru-Yari
Overview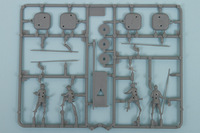 The ashigaru were foot soldiers employed by the samurai class during feudal Japan, originating with wandering mercenary farmers that were used during the constant warfare in Japan between the 1300s and 1500s. The most common weapon employed by the ashigaru was the pike, or yari. The yari came in two major types, the kama yari that featured additional horizontal blades, and the su yari, which was a simple straight spear. The blades of the yari came in many shapes and sizes, with the most common being a straight double-edge design about a foot long.
The Kit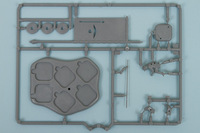 Zvezda has produced quite a few kits recently aimed at the wargaming market, and this is their latest set designed for the historical wargame "Samurai Battle". For those into the wargaming world, this game is based on Art of Tactic and Command & Colors, and is designed from the beginning for expansion. This set provides the gamer with a set of ashigaru yari and comes molded in gray plastic, with colored flags to help differentiate teams.
The figures themselves are nicely made, cast mostly as one piece. There are five figures total, including two kneeling and three standing. One standing figure is molded complete, while the rest all have at least one separate arm, and some feature separate details such as scabbards. All five figures fit onto a keyed base that will fit onto the large base that has slots for six figures.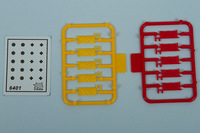 For painting, the only reference is the boxtop illustration. Luckily, this is quite well done and should provide plenty of information to finish your figures accurately. The flags for the figures fit into large holes in the side or back of the figure, so if you want to finish these without those, be ready to fill some holes. A small decal sheet provides markings for those flags to further differentiate between units on the game floor.
Conclusion
While designed for wargamers, these figures are nicely done and could make for a nice set of standalone figures. Japanese soldiers from this era are colorful, so finishing them as standalone figures would result in some neat looking subjects. My thanks to Dragon USA for the review sample.