Internet Modeler : First Look : Ships
RSS News Feed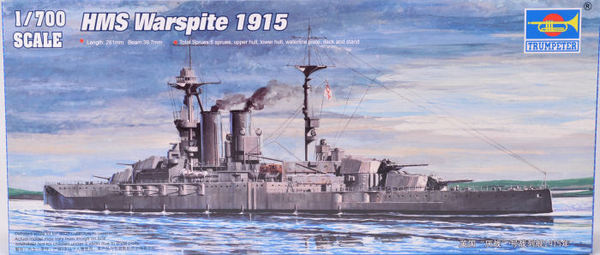 Trumpeter 1/700 HMS Warspite 1915
Item No.:05780
MSRP: $40.00
History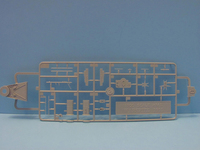 Due to the extensive history of this ship I will only cover her career up to the end of WW1.
The HMS Warspite was commissioned on 8 March 1915 as a Queen Elizabeth-Class battleship. She was to earn the most battle honors ever awarded to a single ship of the Royal Navy. She fought in both World Wars and was scrapped in 1950.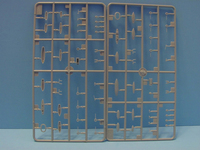 After her commissioning, HMS Warspite joined the 2nd. Battle Squadron of the Grand Fleet. In late 1915 she run aground in the river Forth while being guided by one of her escorting Destroyers. This caused some damage to her hull. After her repairs she returned to the Grand Fleet and joined the newly created 5th Battle Squadron. During an exercise she received considerable damage when she collided with her sister ship HMS Barham.
In 1916 HMS Warspite participated in the Battle of Jutland where she received 15 hits. She was so heavily damaged that she almost foundered. In an attempt to avoid her sister ship HMS Valiant, her steering jammed. Despite her heavy damage she was still able to sail on her own and was eventually ordered home. She reached Rosyth and was repaired again. But even after her repairs she was plagued with steering problems for the rest of her career.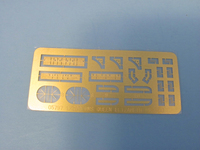 After her repairs were concluded she rejoined the 5th Battle squadron but was hit by misfortune again when she collided with her sister ship HMS Valiant. This necessitated more repairs. In June 1917 she collided with a Destroyer and was rocked at her moorings when HMS Vanguard exploded.  In 1918 she had to be repaired again after one of her boiler rooms caught fire. On 21 November 1918, HMS Warspite, set sail to receive the German High Seas Fleet into interment.
The Kit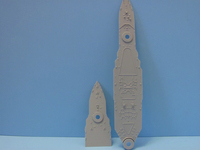 This kit comes on 6 light gray sprues with a total o 171 parts. Additionally there is a gray upper hull, and a red waterline plane and lower hull. Also included in this kit is a small PE-Fret with 23 parts. No railings are provided. The small decal sheet contains 2 Union Jacks and 2 White Ensigns. There is one of each in a wavy and a straight pattern. A black simulated dry dock serves as a stand. Even though main gun barrels with blast bags are provided, they are not shown in the instructions.
The parts look clean and the detail is crisp. I didn't notice any visible flash, mold lines or ejector pin marks. Some of the parts are very thin and fragile, like the secondary armament guns, AA-guns and masts.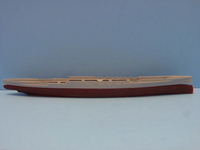 You have the option to build the kit either as waterline or full hull model. The painting and marking guide is full color and includes paint references for Mr. Hobby, Vallejo, Model Master, Tamiya and Humbrol. A rigging guide is included as well.
This is a nice little replica of one of the most famous ships of the Royal Navy. This is a must have for any ship modeler; especially since this is the model of a WW1 ship of which not to many exist, especially in styrene.
I would like to thank Stevens International for this review kit.