Internet Modeler : First Look : Space/Sci Fi
RSS News Feed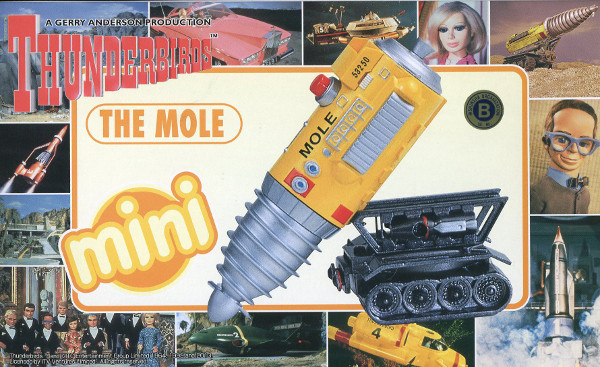 Aoshima Mini Thunderbirds The Mole
The Show
Gerry and Sylvia Anderson created The Thunderbirds TV show. Their AP Films production company made the show and ITC Entertainment distributed it. The show was known for Supermarionation," a filming style combining marionette puppetry and scale-model special effects. The "Mole" was a medium-sized tunneling vehicle used for underground operations. Thunderbird No. 2 carried the Mole into action in its removable pod. The Mole uses caterpillar tracks to position it to drill itself into the ground. The Mole and its trolley weigh approximately 30 tons, and it has a top speed of 50mph, which is awfully fast to drill though the Earth-just sayin'. Virgil and Scott Tracy operated the Mole. I grew up watching the Thunderbirds, and I loved it.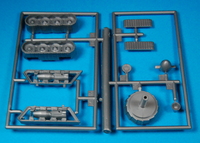 The Kit
This is a simple kit. It is composed of 23 parts, including a metal axle. The 22 plastic parts come on 3 sprues. One is molded in bright yellow and the other 2 in metallic grey, plus a chrome plated drilling head. These parts are well molded and are free from sink marks and flash. The kit also includes a well printed decal sheet. Given the intended audience of the model-children-I was surprised to find decals rather than stickers.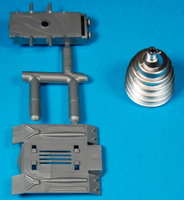 Accuracy
Really? This is a caricature of an imaginary vehicle from a children's television how. It looks the part.
Conclusion
This kit brings back fond memories. You could build it in 15 minutes, and spend more time on the decals. I like this kit and I recommend it. I would like to thank Aoshima for the review sample.

References
1) https://en.wikipedia.org/wiki/Thunderbirds_(TV_series)
2) https://thunderbirds.wikia.com/wiki/Mole