Internet Modeler : First Look : Space/Sci Fi
RSS News Feed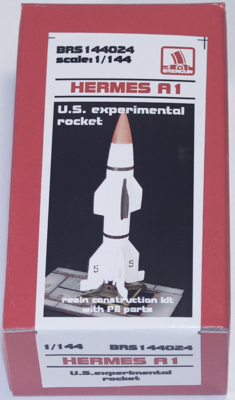 Brengun 1/144 Hermes A-1
Introduction
As is usually said, the spoils go to the victors. After the Allies won WW2 they came across a bunch of unknown technology from the Germans they started to experiment with themselves. One of these was the Wasserfall anti-aircraft missile. The contract was won by General Electric (GE) and they successfully launched missiles from both the White Sands Missile Range and GE's own Malta Test Station. While five were launched, and then GE developed the larger A-3B, none became operational but all definitely contributed to the United States' knowledge of ground-to-air missiles.
The Kit
While I'm unsure if Brengun has released the Wasserfall in 1/144 they have released this, the Hermes A-1 copy. This 1/144 kit consists of 19 pieces of grey resin and a photoetch fret with one piece. There are also decals so you can finish the model as either the "museum" copy, or the fourth or fifth successful test missiles. All three are finished in overall white with black stripes, alternating white-and-black fins and an orange nose.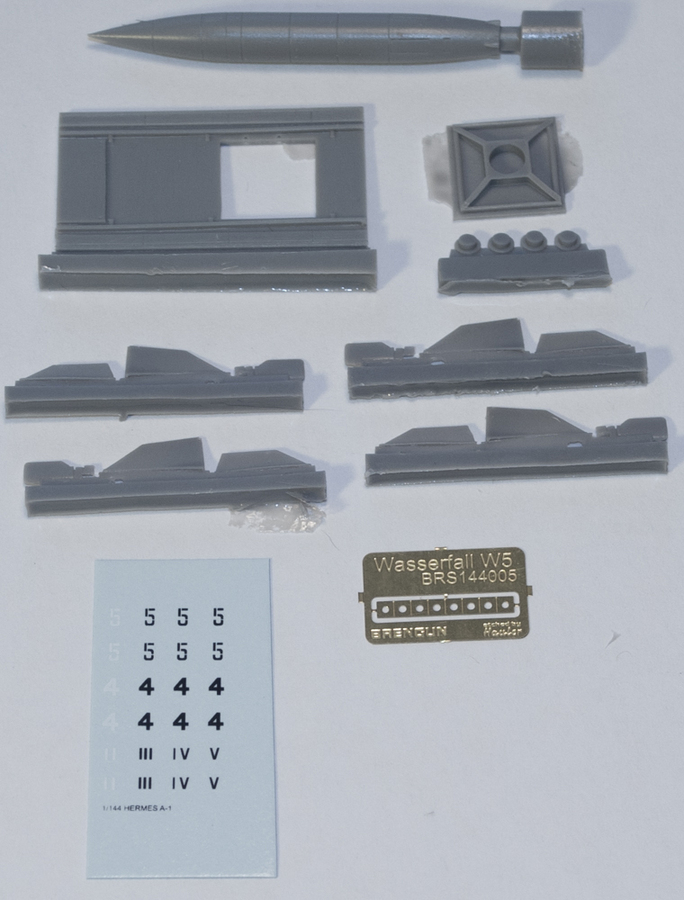 I have built the 1/72 Wasserfall and the Hermes comes with the same base. I'm not entirely confident the Hermes actually used the same base. Some of the images I have seen suggest otherwise, but in all honesty it's difficult to tell 100% because the photos aren't very clear, especially when it comes to the fourth and fifth test firings. There are decent pictures of the "museum" piece and its "launch" platform, but I still have questions about that. The tower surrounding this missile is a lot more complex than the one used by the actual missiles that were fired. (If anyone has good photos of the launch system used for the actual firings, please email me via the masthead above.)
Construction will not be difficult at all. The missile body is a single piece to which the fins are added. Lastly the directional controls are added to the end of the lower fins and the Hermes is complete. If you desire to use the base regardless, then you'll add the four wheels to the support-and-movement base and the missile to it. Then the entire assembly can be glued to the actual base, being sure to line up the wheels with the tracks.
Conclusion
This is a great addition to the history of U.S. missiles. By studying and using the "captured" German Wasserfall system from WW2, the United States was able to have a missile flying in no time.
Many thanks to Brengun for sending the Hermes to review.