Internet Modeler : First Look : Space/Sci Fi
RSS News Feed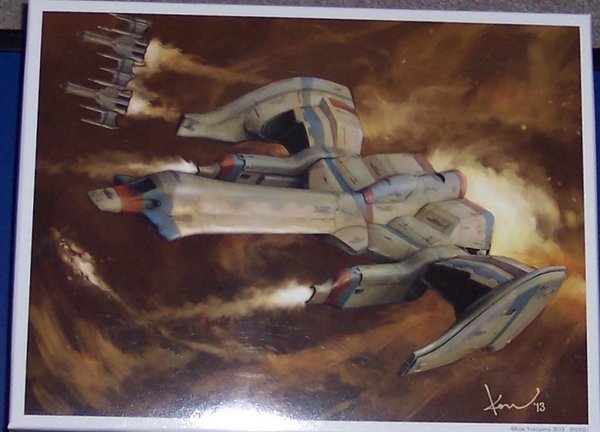 Wave Galaga Fighter (no scale)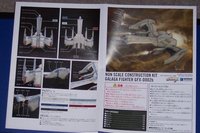 Background
Back in the 1980's there was only one video game I played: Galaga. It was fun back in those early, 8-bit days. More recently, you can hear Tony Stark accuse a guy of playing it on the bridge of the heli-carrier. Of course, later in the film, Ironman must play the game for real.
Wave Corporation has issued an injection kit of the Galaga fighter. I ordered mine from Hobbylink Japan.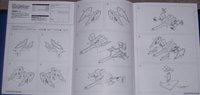 Instructions
Instructions are included color prints of the finished kit. Construction is laid out in 10 steps which is probably a bit of overkill given the simplicity of the kit. 4 different paint schemes are shown, though they are all similar with subtle differences.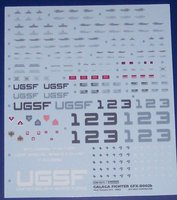 Decals
There is a full 6"x6" decal sheet – which is amazing for a kit based on an 8-bit image. Along with numbers and "national" markings, full stencils are provided if you really want to go that route.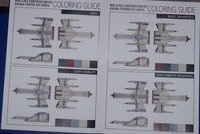 The Kit
The kit consists of 39 injection pieces in light tan and black. There's no visible flash and it appears to be a clean and simple kit. There is no landing gear in the kit, so it is provided with a stand.
The kit provides an open cockpit area with a separate but opaque canopy provided. This offers the ability to create a cockpit and clear canopy for the more ambitious modeler.
An interesting feature of the games was to re-capture one of your fighters from the invaders and have a twin fighter (with twice the fire power) available. The kit provides the ability to link two of the kits wing tip to wing tip but that will mean you have to purchase two kits.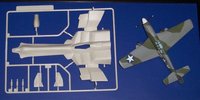 Conclusion
This is a nice kit and should only require a few hours to complete. The kit has no scale which only makes sense since it is based on just an 8-bit image, after all. I included a picture with a 72nd scale Mustang so you get an idea of the size of the actual model. I think it will fit in with my other 1/72nd sci-fi fighters though you could scale it in any fashion you like.
As I said, I picked this up from Hobby Link Japan for a bit over $26 plus shipping. If you are into sci-fi and Galaga, you need to check this one out.