Internet Modeler : First Look : Space/Sci Fi
RSS News Feed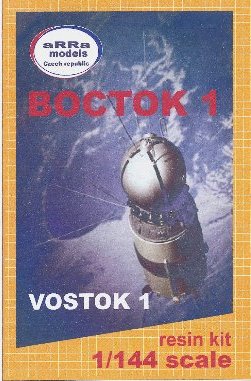 aRRa 1/144 Vostok I
Background:
The Vostok 3KA was the spacecraft used for the first human spaceflights. They were launched from Baikonur Cosmodrome using Vostok 8K72K launch vehicles. The first flight of a Vostok 3KA occurred on March 9, 1961. The first flight with a crew -- Vostok 1 carrying Yuri Gagarin—took place on April 12, 1961. The last flight -- Vostok 6 carrying the first woman in space, Valentina Tereshkova—took place on June 16, 1963.
A total of 8 Vostok 3KA spacecraft were flown, 6 of them with a human crew.
Wikipedia entry for the Vostok spacecraft
Instructions: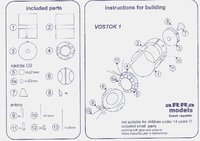 Instructions are a single page exploded drawing of the kit. These are accompanied by a multi-view color drawing showing the paint scheme. The scheme is simplified compared to the photos and drawings I found on the internet. I would recommend some research for a more complete paint scheme.
The Kit:
The kit consists of 10 cast resin pieces, 13 "beads", 7 wire pieces and 6 nylon "whiskers".
The resin pieces look good and scale out well to the Airfix Vostok. There are no sprues, so all pieces are contained in zip lock bags. There are some visible air bubbles and a few minor flaws in the crew module, but nothing that can't be easily repaired. Half of the third stage (part 1) is a short shot in my example, but should be easily fixed. All parts look true and dry fit well.
A string of beads is provided for the spherical tanks at the top of the equipment section. The instructions are unclear, but these would have to be cut apart and attached separately to the resin. They seem irregularly shaped to me, so they are candidates for replacement.
7 wire antennae are provided, pre-shaped. My example is short one piece #12. They are all nicely shaped and will look much better than the molded plastic used in the Airfix kit. The missing part 12 is not too big a problem. Finding the wire is easy – getting it bent to shape as well as the rest of the pieces will be more difficult.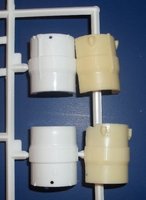 The nylon "whiskers" comprise the remainder of the antennae suit and are pre-cut to length.
Conclusion:
This kit appears to scale out well. The cast spherical crew compartment is vastly superior to the Airfix Vostok. There will be some work needed to fill or sand a few flaws, but nothing out of the ordinary. I estimate this to be a 10-15 hour project. All in all, I expect it to be a very nice display piece next to my Apex Vostok launcher.
My thanks to aRRa for the review kit.