Internet Modeler : New Releases : Armor
RSS News Feed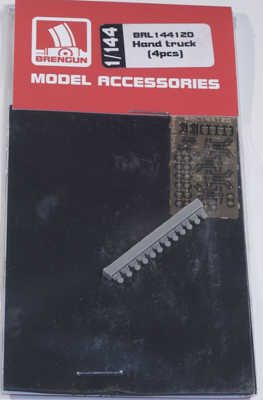 Brengun 1/144 Hand Truck
Hand trucks are an easy way to haul items from one point to another. Around here we also call them "dollies" and are useful when you want to cart around bulky and heavy items. Brengun has now released a set of these in 1/144.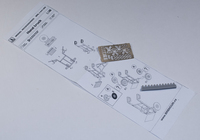 There are four hand trucks in this set and while the actual assembly isn't technically difficult, due to their small size it definitely will be "fun". The main "body" is a single, fold-up affair and to that you add the "bed" (or the surface the items are "stacked" on), the axle and support "struts", and wheels. There are two sets of wheels with this release, a thinner, two-piece type that are part of the photoetch and thicker, resin wheels. Which type of wheel you add is entirely up to you.
So if you're looking for something for a diorama – or some other type of scene – that can be used to look like it's hauling items around definitely pick up this set of hand trucks.
My thanks to Brengun for sending this set to review.