Internet Modeler : New Releases : Armor
RSS News Feed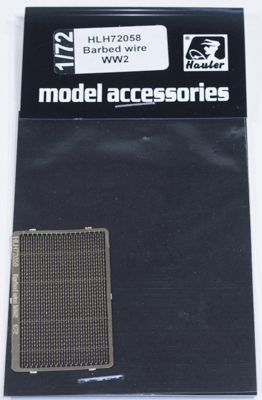 Hauler 1/72 Barbed Wire
One item that is good for almost any diorama or some piece of armor is barbed wire. It's ubiquitous is any war zone and can be found around many farmland, especially if that farmland is used for livestock grazing.
One of the best forms of barbed wire, especially in the smaller scales, is photoetch and here we have Hauler's set of barbed wire in 1/72. You can leave it flat if you need to (for example, rolling it on spools) or can twist any of it in any direction to give it a little more realism. You'll also want to color itsomehow to reduce the bright brass color.
This is a definite need when dealing with – well – almost anything and will look great when used on your dio or your vehicle.
My thanks to Brengun for sending this to review.