Internet Modeler : New Releases : Armor
RSS News Feed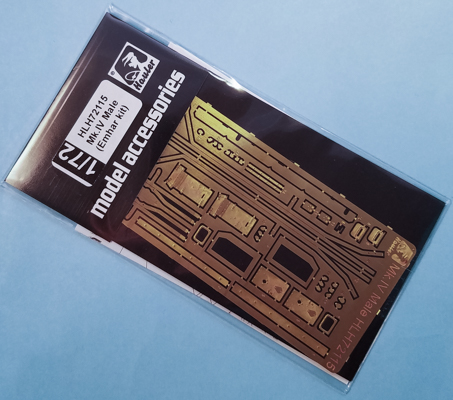 Hauler 1/72 Emhar Mk.IV "Male" Photoetch
Overview
I can't believe it's been 21 years since I built the Emhar Mk.IV "Female". Twenty-one years. It doesn't seem that long ago. In any event, the Emhar series of British WWI Mk.IV tanks are still the best injected kit of that version on the market, and a very decent build out of the box. Still, there is always room for improvement and that's where this photoetch set comes in.
For those unaware, the only difference between the "Male" and "Female" was in the armament. The "Male" carried three Lewis machine guns (one in front and one in each sponson) and two QF 6 pdr 6 cwt guns in each sponson. The "Female" only carried five Lewis machine guns in all stations with no QF 6 pdr 6 cwt guns.
The Tank
The Hauler 1/72 Emhar Mk.IV "Male" photoetch set consists of 44 pieces on the photoetch fret. These photoetch pieces consists of multiple pistol ports; surrounding metal for a wood ditching beam; the ditching beam rails (both sides); sponson doors that can be left opened or closed (which means if you open them, you'll need to provide interior detail); open or closed driver vision ports; and a box surrounding the main part of the exhaust.
There is no reason why this set can't be used on an Emhar "Female" as well, since the only difference in the two types was in the armament.
Conclusion
The one area of the "Female" kit I built that was problematic were the injected ditching beam rails, so I left them off (not all tanks had them). While the Hauler ones are photoetch, which means a little more work, they will no doubt look more too-scale. That, for me, is a great reason to pick up this set. No doubt this photoetch set will really make your Emhar Mk.IV look great.
I definitely want to thank Brengun for sending the review sample.