Internet Modeler : New Releases : Armor
RSS News Feed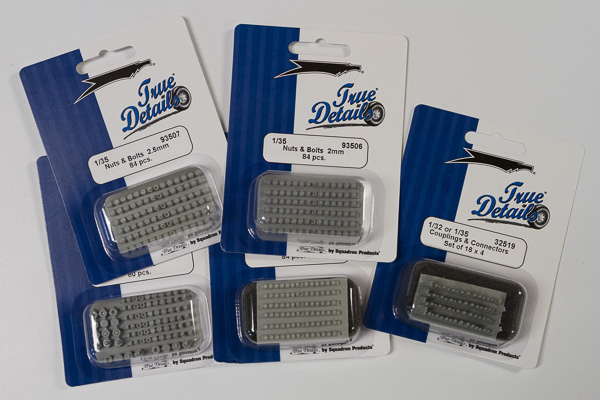 True Details 1/35 Nuts & Bolts Sets and Couplings & Connectors
The Detail Sets
Here's an interesting concept for aftermarket details. What you get are a batch of bolt heads with washers, nuts with washers and bolt ends, and loose bolts and nuts, all great for detailing assembled machinery and some extra bits for set dressing. The various sizes of nuts and bolts are very crisply molded, especially the bolt threads even on the smallest sizes.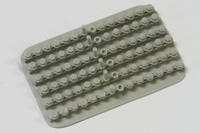 I was a little concerned about how cleanly the bits would cut away from the casting blocks. Fortunately, the bock to part mating surface is only about one third the diameter of the bolt head or washer, and the casting medium isn't too brittle, so the parts can be sliced off carefully with just a sharp knife, without cracking/distorting/tearing at the part. Using a very thin saw will give a cleaner cut however, and might more recommended. For uber-accuracy types, the smaller bolt heads and nuts may seem just a tad tall on the diameter to thickness ratio, but that gets into the realm of too nit-picky to worry about. I'll certainly be using these on my next projects.
Like the nuts and bolts, the various connectors are very crisply cast and are easily sliced or cut from the casting blocks. As I use solder or lead wire for my plumbing, which doesn't always make a firm bond with various glues, I'd likely drill a sub-size hole and use a bit of very fine wire to mate the couplings to the metal, though if you are going from resin to plastic just butt-joining the parts with some CA glue ought to be fine.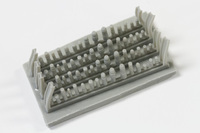 Since I don't have much experience with the range of types of connectors out there, I can't vouch for the representation of the hardware, except to say that those I do know often have hex elements for wrench tightening and these parts lack that detail. But all is not lost, as a quick pass with a file can add facets to appropriate sections or a little splicing with the nuts from the other sets to perfect the look of the part as needed. Great stuff all around, and my thanks to Squadron for the review samples.