Internet Modeler : New Releases : Automotive
RSS News Feed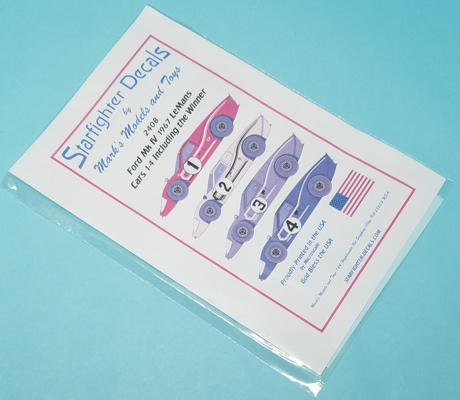 Starfighter Decals 1/24 Ford Mk IV 1967 LeMans
Overview
It appears there were two injected plastic kits for the 1/24 Ford Mk IV by MPC and IMC/Testors/Union. There were also resin models released by LeMans Miniatures and Renaissance.
The Decals
This release from Starfighter Decals covers the Ford GT-40 in 1/24 that was driven in LeMans in 1967. There are four different cars.
The instructions are pretty robust in how to finish your model. I think you could build two cars from the sheet but I'm not 100% certain.
Conclusion
This set of decals is great for those wanting to build Ford GT-40s that ran during the 1967 LeMans. The decals are top-notch with good color and excellent registration.
Huge thanks to Starfighter Decals for supplying the review set.