Internet Modeler : New Releases : Aviation
RSS News Feed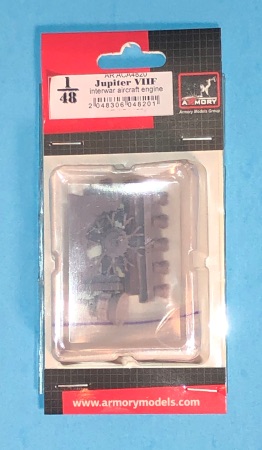 Armory 1/48 Jupiter VIIIF Interwar Aircraft Engine
The Bristol Jupiter VIIF
The British Bristol Aeroplane Company were instrumental in making the Jupiter VIIF, a 9 cylinder, single row piston radial engine, regarded as one of the finest engines of its era. The engine was originally designed during World War One and it was known as the Cosmo Jupiter. Roy Fedden of Brazil Straker and later Cosmos Engineering designed the Jupiter. Brazil Straker completed the first Jupiter in 1918. At the War's end British aircraft production was severely curtailed. Cosmos Engineering went bankrupt in 1920 and its assets were purchased by Bristol, largely on the merits of the Jupiter. The Jupiter was a fairly standard design for the era, but it featured 4 valves per cylinder which was uncommon at the time. The Bristol Jupiter matured into one of the most reliable engines on the market. It was the first air-cooled engine to pass the Air Ministry full-throttle test, the first equipped with automatic boost control and the first to equip airliners. The Jupiter was widely used on many aircraft designs of the 1920s and 30s.
| | |
| --- | --- |
| | |
The Model
This gem of a kit consists of 22 finely cast resin pieces. The cylinders and their heads are individually molded. The completed cylinders attach to the crankcase and the crankcase's detail will come up nicely with an oil wash and careful drybrushing. The blower casing's induction pipes form the rear of this very impressive engine. The detail of this engine is magnificent. The engine will be easy to assemble by simply following Armory's well illustrated instructions. Some of the airplanes that used the Jupiter VIIIF include the Bristol Bulldog, Gloster Gamecock and the Handley-Page H.P. 42 airliner.
Conclusion
I think that with the right aircraft model the Bristol Jupiter VIIIF will be the centerpiece of an impressive diorama. I recommend this kit and I would like to thank Armory for the review sample.
References
Wikipedia: