Internet Modeler : New Releases : Aviation
RSS News Feed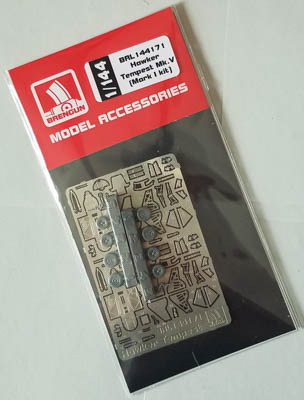 Brengun 1/144 Mark I Hawker Tempest Mk.V Aftermarket
Overview
Mark I released a number of boxings of the Hawker Tempest some time ago. It's a typical Mark I kit so will definitely look the part when built. However, like everything in modeling, it can be improved upon and Brengun has us covered.
The Photoetch
One thing to keep in mind is most boxings of the Mark I 1/144 Hawker Tempest Mk.V come with two complete kits. Therefore, the Brengun aftermarekt set comes with enough pieces for both injected plastic kits. For a single kit, there are approximately 33 pieces of photoetch as well as two sets of main wheels (early and late) and a complete tail wheel and strut in resin. The majority of the photoetch pieces with this set are for the cockpit. Not only does Brengun provide a fold-up cockpit tub, but a lot of the parts associated with a "cockpit tub" are included as well. These parts include a control stick; a fold-up seat with separate belts; plenty of side-wall detail; rudder pedals; instrument panel; etc. Also included on the photoetch fret are total replacements for all landing gear doors along with oleo struts for the main landing gear. The resin wheels (two types, early and late) are nicely molded as is the replacement tail wheel and gear strut.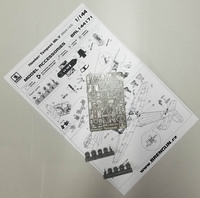 If you want to add more detail to your Mark I 1/144 Hawker Tempest Mk.V, then Brengun definitely has you covered. There is a lot here to add some wonderful detail to this nice kit. Hopefully Brengun will follow up with a vacuum-formed replacement canopy so you can see all that wonderful added detail.
I definitely thank Brengun for allowing me the honor to review this excellent set.