Internet Modeler : New Releases : Aviation
RSS News Feed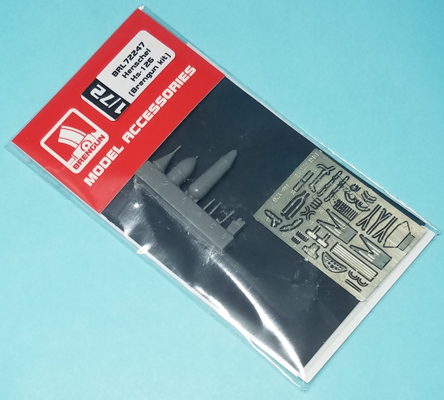 Brengun 1/72 Brengun Henschel Hs 126 Detail Set
Overview
Brengun has recently released a new-tool Henschel Hs 126 that is definitely a very nice kit. Naturally, every kit can be enhanced and often these enhancements come from the same company releasing the kit. This is good for a number of reasons. If you don't want the enhancements that are in the add-on set, then you don't have to buy that set. But if you're looking for more detail than a kit can provide, now you have a set with additional details.
My only concern with this plan is in terms of seat belts. At the very least I think manufacturers should include decal seat belts so if they're truly not wanted (and most modelers will add seat belts of some type) then you just don't add the decals. But they're there for the people that want them.
The Aftermarket
This detail set released by Brengun provides a number of extra parts, including already mentioned seat belts. In addition, you also receive the following items:
Bomb rack sway braces; rudder control horns; sights for the rear gun; replacement instrument panel with clear-foil instruments; new blades for the electrical generator; handles for inside the windscreen; control levers for the side consoles; fold-up intake for under the fuselage, near the cowl; additional supports for the engine; two different types of steps (early and late) for the landing gear legs; handles for the pilot for inside the cockpit; a pitot for the starboard wing strut; and resin parts with included pieces of photoetch for the resin.
Those resin items consists of a tropical filter; MG 15 perferrated gun barrel (including a spare); smoke/gas generator with external tubing; and a replacement bomb with photoetch fins.
Conclusion
As Brengun is known for their aftermarket as well as their kits, you can be assured of the high quality Brengun is known for. Most of this set I consider necessary for a well detailed build, but it's entirely up to the modeler as what to or not to include.
My thanks to Brengun for the set to review.