Internet Modeler : New Releases : Aviation
RSS News Feed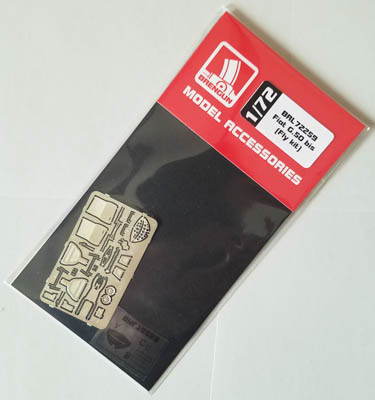 Brengun 1/72 Fly Fiat G.50 Photoetch
Overview
The Fiat G.50 has been well served in 1/72. Kits from the likes of Airfix, AML, Classic Plane vaccummformed and a wonderful resin kit from SBS. Recently Fly has also jumped into the mix, providing a wonderful plastic injected kits, with multiple releases based on markings and alternate parts. Now we have a photoetch set from Brengun to help add detail to the model.
The Photoetch
The Brengun 1/72 Fiat G.50 photoetch set for the Fly kit consists of 26 pieces of photoetch and a clear film for the instrument panel, gun sight glass and windows for the cockpit doors. The replacement instrument panel is a two-piece affair: photoetch front with instrument faces in the clear film. There is a replacement seat cushion/seat belts, after the molded-in seat belts are removed. The set includes a control wheel for the side of the cockpit floor along with rudder pedals. Brengun provides two photoetch cockpit doors so you can glue them open to display all the cockpit detail. There's an addition to the port cockpit side, once part of the detail is removed. Also included are replacement landing gear doors, aileron control rods and a replacement pitot tube, albeit "flat".
This is an excellent set to add extra detail to your Fly 1/72 Fiat G.50. Brengun produces wonderful aftermarket pieces so buy in confidence.
My thanks to Brengun for sending the review photoetch.