Internet Modeler : New Releases : Aviation
RSS News Feed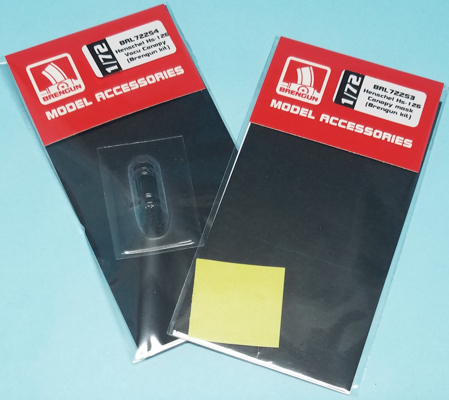 Brengun 1/72 Henschel Hs 126 Aftermarket
Overview
It's been a few months since Brengun has released their 1/72 Henschel Hs 126. I'm still in the process of building it but hope to have it finished, soon. Now these last two aftermarket items are released, it should be an even better finish.
The Aftermarket
The first aftermarket Brengun released was a photoetch set for the model that came out at the same time as the model itself. Now, they follow up with the second aftermarket release being these sets of masks, for the canopy sections only.
The third aftermarket release for this kit is a vacuum-formed canopy. With the out-of-the-box cockpit, as well as the extra detail in the photoetch set, using these canopies you'll be able to see all that detail easier than with the injected-plastic canopies.
Conclusion
As I mentioned, I'm still in the process of building the Brengun 1/72 Hs 126 so will be able to use both of these sets on my build. Hopefully it will be finished soon.
I definitely thank Brengun for sending these sets to review. They will definitely enhance the Hs 126 build.