Internet Modeler : New Releases : Aviation
RSS News Feed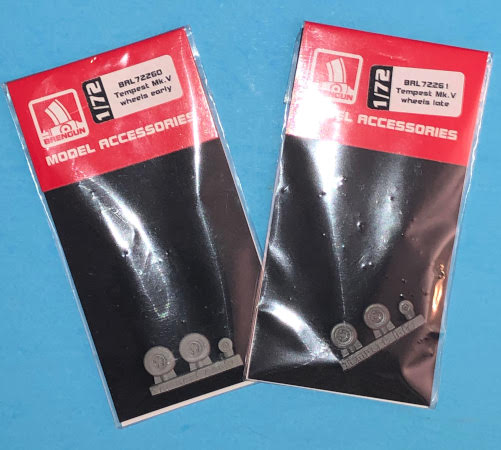 Brengun 1/72 Tempest Mk.V Wheels
One of the best ways to increase the accuracy of many kits is perhaps the simplest: replace the wheels. The Hawker Tempest is a popular modeling subject and is well catered to in 1/72nd scale. Airfix has just introduced a newly tooled Mk.V, which joins the venerable Academy Mk.V kit and KP's brand new Mk.II, Mk.V and Tempest F.6 kits.
Brengun has just introduced 2 new pairs of wheels, the 5 spoke Early wheel and 4 spoke Late wheel. The former is applicabe to the earliest Mk.Vs and the Hawker Typhoon. The latter wheels are for the Mk.II, late Mk.V, F.6 and the Hawker Sea Fury as well. Both sets include the later ati-shimmy tailwheel. The wheels are weighted and they have excellent detail.
Brengun's Tempest wheels represent a substantial upgrade for the kit wheels for any 1/72nd scale Hawker Typhoon, Tempest or Sea Fury. I recommend these wheels and I would like to thank Brengun for the review samples.