Internet Modeler : New Releases : Aviation
RSS News Feed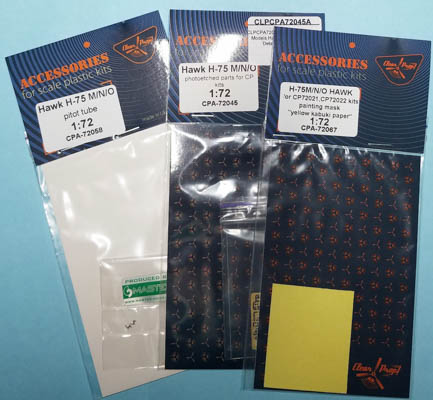 Clear Prop! 1/72 H-75 Hawk Aftermarket
Overview
Released at the same time as the kits, Clear Prop! has provided three sets of aftermarket items for their 1/72 H-75 Hawk series of models.
The Aftermarket
Naturally, Clear Prop! has released a set of masks for the H-75. Not only are there masks for all clear pieces, but all wheels as well, including the tail wheel. Not many aftermarket companies provide that, so this is definitely welcome.
The next aftermarket piece Clear Prop! provides is a set of photoetch. Items include an instrument panel, using the kit's decals sandwiched between the sanded plastic piece and the photoetch "face"; anti-skid plates for the rudder pedals; seat belts; gun butt charging handles; items to add to the cockpit sides and floor; tabs for the trail trims; and a bead-and-sight if needing it for the aircraft you're modeling. Not a lot, but just enough to spruce up the kit.
Finally, Clear Prop! and Master Model have teamed up to provide a replacement pitot tube for the underside of the port wing. Thankfully Master includes two "tips" for the pitot (which are plastic), just in case your first one "pings" away".
All in all three excellent sets to turn your Clear Prop! H-75 kit into a stunning model. The masks are, I feel, a must as they save a lot of time. The rest is just "icing on the cake".