Internet Modeler : New Releases : Aviation
RSS News Feed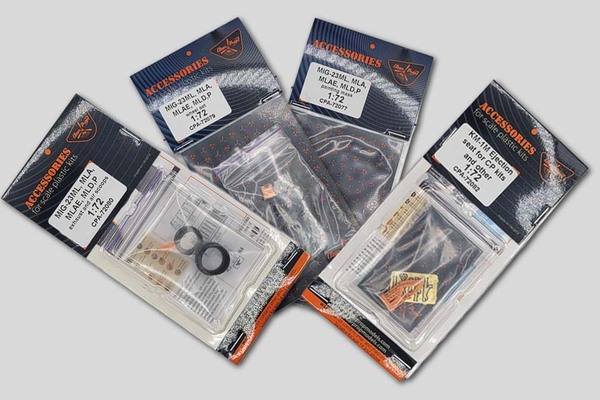 Clear Prop 1/72 MiG-23 Accessories
Overview
The recent release of Clear Prop's 1/72 MiG-23 has many excited to throw one on the workbench. While the kit has excellent detail out of the box, Clear Prop has released several useful aftermarket sets aimed at increasing that detail level. Some of the sets are included in the Expert releases, such as the photoetch, while the others are direct kit replacements, or in the case of the masks, a near essential add-on.
72077 Painting Masks
Painting masks are a common solution these days for nice, clean canopy lines, so we can expect that with this set. Where it goes above and beyond, though, is by providing masks for both the interior and exterior framing. This even extends to separate masks for the rear view mirror on both the interior and exterior. The set also includes masks for the nose wheels, as the kit only has separate hubs & wheels for the main wheels.
72079 Wheel Set
The kit wheels are very well detailed, but injection molding does have its limitations. This wheel set provides much finer detailing in the hubs and tires compared to the kit parts. Like the kit, the main wheels have separate hubs, which makes painting these a snap. Unlike the kit, the nose wheels also have separate hubs in this set, negating the need for masks on these.
***image2**
72080 Exhaust & Air Scoops
This is probably the simplest upgrade set out there, as it's an exact replacement for the kit parts. This set has two pieces for the exhaust, and also provides two air scoops for the upper fuselage. The extra detail afforded to resin makes this exhaust set a marked improvement over the kit parts.
***image3**
72077 KM-1M Ejection Seat
Ejection seats are a perfect choice for aftermarket resin, and such is the case with this seat. While the kit seat is decent, injection plastic just can't capture the detail found in ejection seats. This set provides a 3D-printed seat with additional photoetch details and a small decal sheet rounding out the details. For those wanting to build an open cockpit, this set is a must have.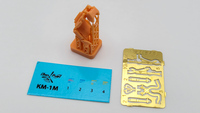 Conclusion
For those wanting to take their Clear Prop MiG-23 to the next level, these sets are a great addition to a build. Since they're done by Clear Prop as well, you have guarantees that they will fit the kit as well. My thanks to Clear Prop for the review samples.