Internet Modeler : New Releases : Aviation
RSS News Feed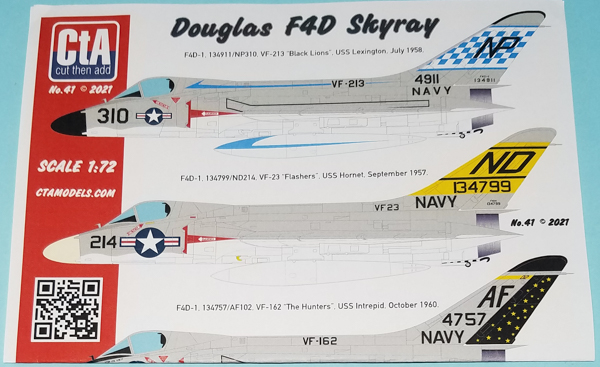 CtA 1/72 Douglas F4D Skyray
Overview
A most welcome release as there aren't many F4D Skyray decal sheets out there. With the superlative Tamiya kit, now you can apply different markings to it.
The Decals
The CtA Douglas F4D Skyray sheet provides markings for 4 F4Ds:
F4D-1, 134911/NP310, VF-213 "Black Lions", USS Lexington, July 1958.
F4D-1, 134799/ND214, VF-23 "Flashers", USS Hornet, September 1957.
F4D-1, 134757/AF102, VF-162 "The Hunters", USS Intrepid, October 1960.
F4D-1, 134816/C102, VF-74 "Be-Devilers", USS Saratoga, June 1957.
Decals are very nicely printed and in register.
Note that there are national markings for only one model, as well as other decals such as stencils, etc. So, if you want to build more than one Skyray using this decal set you'll need to source extra national markings and stencils. This is a welcome addition for the wonderful Tamiya kit.
Huge thanks to o CtA for review set.