Internet Modeler : New Releases : Aviation
RSS News Feed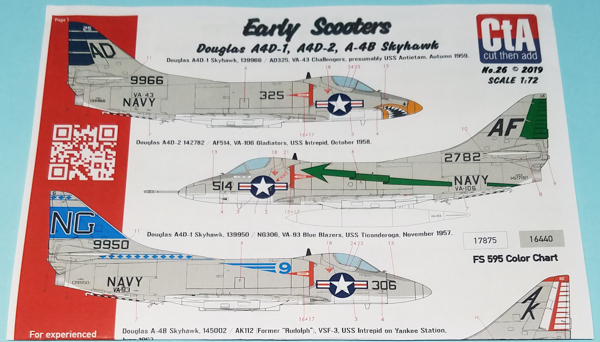 CtA 1/72 "Early Scooters"
Overview
Cut then Add (CtA) has been releasing interesting, mostly USN decals for some time. One of their earlier releases was a sheet devoted to early A-4s (especially before the change, namely A4D-1/2) so there has been enough requests through the years, they have reissued this sheet.
The Decals
The CtA "Early Scooters" sheet provides markings for 11 A-4s:
Douglas A4D-1 Skyhawk, 139944 / L210, VA-72 Blue Hawks, USS Randolph, during 1956.
Douglas A4D-2 142782 / AF514, VA-106 Gladiators, USS Intrepid, October 1958.
Douglas A4D-1 Skyhawk, 139950 / NG306, VA-93 Blue Blazers, USS Ticonderoga, November 1957.
Douglas A4D-1 Skyhawk, 139966/AC304, VA-34 Blue Blasters, USS Saratoga, July 1958.
Douglas A4D-1 Skyhawk, 139966 / AD325, VA-43 Challengers, presumably USS Antietam, Autumn 1959.
Douglas A4D-2 Skyhawk, 144900/AC305, VA-34 Blue Blasters, USS Saratoga, December 1961.
Douglas A-4B Skyhawk, 145022 / AJ570, VSF-1, USS Shangri La, January 1967.
Douglas YA-4B Skyhawk, 145002 / NA-82 "Rudolph" (had an F-11A Tiger radar nose grafted on), VSF-1, circa 1966. Used in carquals on USS Kearsarge and/or USS Hornet.
Douglas A4D1 Skyhawk, 142676 / AA152, VA-106, USS Forrestal, December 1968.
Douglas A-4B Skyhawk, 145002 / AK112 (Former "Rudolph"), VSF-3, USS Intrepid on Yankee Station, June 1967.
Douglas A-4B Skyhawk, 144870 / AB11, VA-831, NAS Cecil Field during 1968. Squadron was administratively assigned to the USS John F. Kennedy but did not deploy.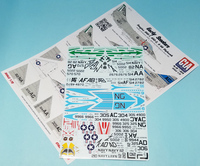 Decals are very nicely printed and in register. The colors look great! The only thing I wonder is the blue selected for the VA-34 birds is correct. I interpreted it differently when I converted an Airfix A-4B into and A4D-1. In any event, if you don't like the blue on the decal sheet then you can just paint that yourself on your model. But even so, these decals are very nice and defintely worth tracking down. I plan on building another VA-34 Scooter from this sheet, some day/month/year/eon.
I did end up using one CtA decal on the above build because I messed up one of the Wolfpak decals and was able to substitute with one from this CtA sheet.
Note that there are national markings for only one model, as well as other decals such as stencils, etc. There are different types of "intake warning" markings, though, dependent on the airframe.
My thanks to CtA for allowing me to review this set of decals.