Internet Modeler : New Releases : Aviation
RSS News Feed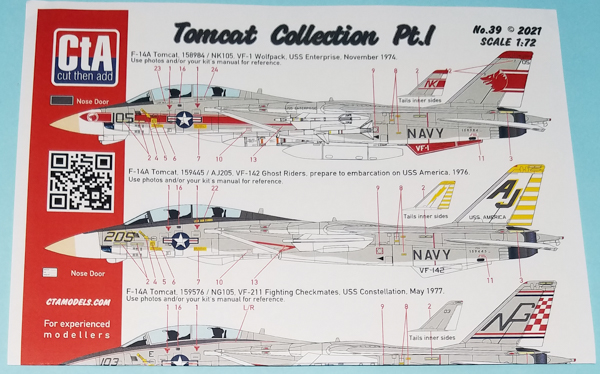 CtA 1/72 Tomcat Collection Pt.1 - Grumman F-14A
Overview
A newer release from Cut then Add (CtA) is this first collection of Tomcats for the F-14A.
The Decals
The CtA Tomcat Collection Pt.1 sheet provides markings for 4 F-14As:
F-14A Tomcat, 158984 / NK105, VF-1 Wolfpack, USS Enterprise, November 1974.
F-14A Tomcat, 159445 / AJ205, VF-142 Ghost Riders, prepare to embarcation on USS America, 1976.
F-14A Tomcat, 159576 / NG105, VF-211 Fighting Checkmates, USS Constellation, May 1977.
F-14A Tomcat, 161617 / NK207, VF-21 Freelancers, prepare to embarcation on USS Constellation, fall 1984.
Decals are very nicely printed and in register. All four of these Tomcats are in the white and gull gray scheme.
I did end up using one CtA decal on the above build because I messed up one of the Wolfpak decals and was able to substitute with one from this CtA sheet.
Note that there are national markings for only one model, as well as other decals such as stencils, etc. So, if you want to build more than one Tomcat using this decal set you'll need to source extra national markings and stencils.
I definitely send thanks to CtA for allowing me to review decal set.