Internet Modeler : New Releases : Aviation
RSS News Feed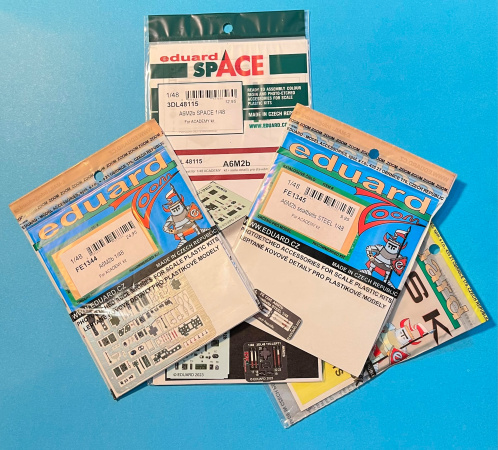 Eduard 1/48 A6M2b Enhancements
Eduard has introduced some aftermarket sets for Academy's recent 1/48th scale Mitsubishi A6M2b Reisen (Zeke) kit. Let's have a look at them:
EX937 A6M2b TFace
This set consists of rice paper masks for both the inside and outside of the windscreen and canopy.
FE1344 A6M2b ZOOM
This is a single fret containing 63 photo-etch parts. Some of these are pre painted and among the new parts are an instrument panel, rudder pedals, sidewall consoles and oleo scissors. Additional items include a ring-and-bead gunsight, oil cooler face, seat adjustment lever, throttle quadrant, etc.
FE1345 A6M2b seatbelts STEEL
This is a 4 part seat harness and all 4 pieces are pre-painted.
3DL48115 A6M2b SPACE
Space sets combine 3D printed waterslide decals with a steel photo-etch fret. It consists of 23 parts. 16 of these are decals and the rest are photo-etched parts on a single fret. Most of these are pre-painted.
The 3D decals include an instrument panel and sidewall consoles for both fuselage sides. The decals are straightforward to use: you soak the sheet in warm water for a couple of seconds until the decals slide off the backing sheet. Don't leave the decals in the water too long as this causes them to swell and distort. You can use white glue or GSI Creos (Gunze) Mr. Mark Setter to increase their adhesion and for best results apply clear gloss before attaching them.
The photo-etch parts are the seat harness, 2 ring-and-bead gun sights and some small pieces to which the decals are applied.
491344 A6M2b Photo Etch
This 84 part PE set adds a second, 21 part unpainted brass fret to the 63 piece ZOOM set reviewed above. Additional upgrades include an ignition harness, rudder pedals, a new seat and landing gear doors.
Academy's new 1/48th scale A6M2b kit has been warmly received. It has better surface detail than the older Hasegawa kit(s) and splits the difference between Eduard's and Tamiya's kits in terms of overall detail. The A6M2b looks great right out of the box and the Eduard aftermarket bits will increase the kit's accuracy with such thoughtful touches as an ignition harness, new instrument panel and sidewall consoles. The TFace canopy set will simplify a task that can be time consuming. I recommend these aftermarket sets and I would like to thank Eduard for the review samples.