Internet Modeler : New Releases : Aviation
RSS News Feed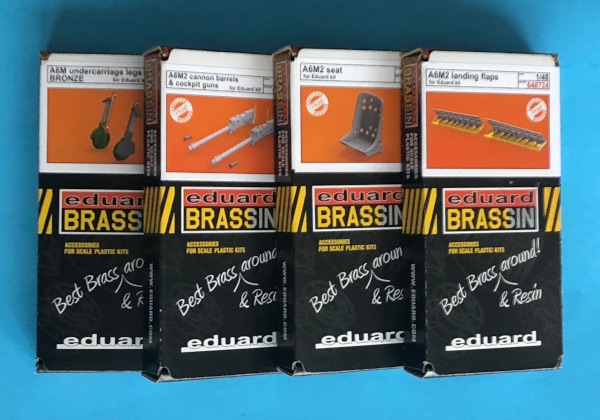 Eduard 1/48 Brassin A6M2 Enhancements-Part One
Eduard has introduced many Brassin enhancement sets for their superb new Mitsubishi A6M2 Model 21 Reisen/Zeke kit, so let's take a look at 4 of them:
648695 A6M undercarriage legs BRONZE
This simple 8 piece set consists of a pair of bronze landing gear with brake lines and resin landing gear doors. These will be easy to use and their detail is superb.
648698 A6M2 seat
This 5 piece set is a 3-D printed resin seat plus a 4 piece photo-etch seat harness.
648723 A6M2 cannon barrels & cockpit guns
With this 7 piece set, you get a pair of 3-D printed cannon and separate muzzles plus 3 PE cocking levers. Another VERY useful set.
648724 A6M2 landing flaps
This set of Zeke landing flaps is the most complex of the 4 Brassin sets we're reviewing here. It requires the removal of the kit parts and their replacement with the Brassin parts. There's a grand total of 12 components, 6 each resin and photo-etch. All of the parts are scale thickness and their detail is superb. Well done, Eduard.
Conclusion
Eduard's new Mitsubishi A6M2 Model 21 is a masterpiece of the toolmaker's art. Accurate and well detailed it will build into a great model right out of the box, and you can choose from a suite of Eduard Brassin enhancements to make a great model even greater. I recommend these sets and I would like to thank Eduard for the review samples.