Internet Modeler : New Releases : Aviation
RSS News Feed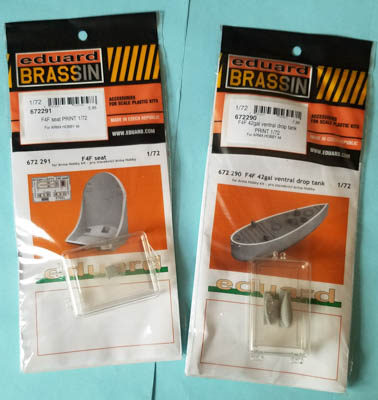 Eduard 1/72 Arma F4F Brassin Print Parts
Overview
Arma first released their Wildcat set as the FM-2. The latest release has actually been the F4F-4 and all-in-all, while a little fiddly in places, the kits are amazing fetes of engineering.
The Printed Parts
This is my first set of 3D printed parts from Eduard, and they look amazing. The detail is nice and crisp and there aren't any flaws I can perceive. It's not difficult to remove the parts from their sprue but definitely have patience and take your time.
The first printed part for the Arma F4F-4 from Eduard is the 42 gallon ventral drop tank. Once the parts are removed from their sprue then it's easy to attach the bottom to the top piece and paint. Once painted you just add it to the underside of your Wildcat, after removing the first underside light from the belly of the model.
The next part from Eduard is the cockpit seat. While specifically meant for the Arma kit, I see no reason why it can't be used in any of the other Wildcat models. The package consists of the printed seat along with a fret of photoetch seatbelts. Remove the sprue, paint the seat then add the pre-painted seat belts. Finally, add it into your Wildcat cockpit. Easy-peasy.
These 3D printed parts really look great and will look even better added to your Arma Wildcat. Here's hoping Arma release their F4F-3 soon.
My thanks to Eduard for the review parts.