Internet Modeler : New Releases : Aviation
RSS News Feed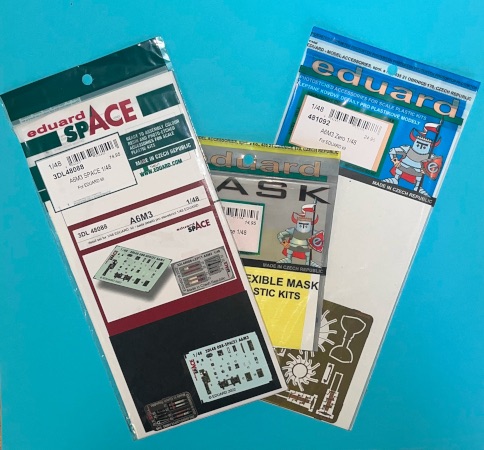 Eduard A6M3 Aftermarket-Part One
Eduard has produced a host of aftermarket items for their 1/48th scale Mitsubishi A6M3 kit. Let's have a look at some of them.
3DL48088 A6M3 SPACE
Space sets combine 3D printed waterslide decals with a steel photo-etch fret. It consists of 26 parts. 18 of these are decals and 8 are photo-etched parts on a single fret. The 3D decals include an instrument panel, sidewall consoles and instrument faces for both fuselage sides. The decals are straightforward to use. Soak the sheet in warm water for a couple of seconds until the decals slide off the backing sheet. Don't leave the decals in the water too long, as this causes them to swell and distort. You can use white glue or GSI Creos (Gunze) Mr. Mark Setter to increase their adhesion; for best results apply clear gloss before attaching them.
The photo-etch parts include the seat harness. Eduard includes excellent, well illustrated instructions so this set will be easy to use.
EX899 A6M3 Zero TFace
These masks are for both the interior and exterior of the windscreen and canopy and are made from Eduard's customary rice paper tape.
481092 A6M3 Zero
This is a simple photo-etch set that consists of 11 pieces on a single brass fret. It includes the ignition wiring harness, seat, landing gear doors, headrest armor, etc.
Eduard's 1/48th scale Mitsubishi A6M3 kit is accurate and superbly detailed. The A6M3 is great right out of the box, but Eduard has produced some nice aftermarket parts for those who demand the utmost in accuracy.
I recommend these aftermarket sets and I would like to thank Eduard for the review samples.