Internet Modeler : New Releases : Aviation
RSS News Feed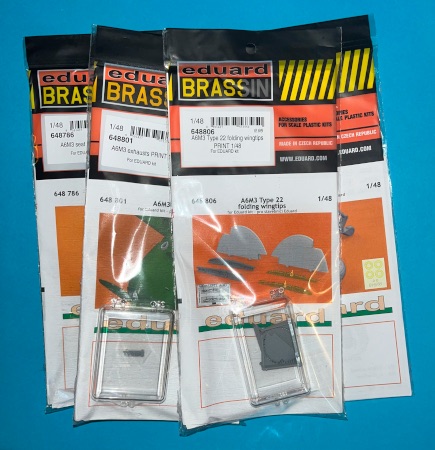 Eduard A6M3 Aftermarket-Part Two
Eduard has produced a host of aftermarket items for their 1/48th scale Mitsubishi A6M3 kit. Let's have a look at some more of them.
648786 A6M3 Seat PRINT
This is a 3D printed resin seat that is superbly detailed. It also includes a pre-colored photoetch harness. The seat will be a worthwhile addition to your Zero cockpit.
648799 A6M3 Wheels
You get a pair of highly detailed resin main wheels, a one piece tail wheel and a set of pre-cut rice paper masks.
648801 A6M3 Exhausts PRINT
This is a pair of exhaust stacks with realistic depth. Another easy way to enhance your A6M3 kit's accuracy.
648806 A6M3 Type 22 Folding Wingtips PRINT
The Mitsubishi A6M3 Type 22 required folding wingtips to fit onto Japanese aircraft carrier elevators. This set consists of 6 pieces. 4 of these are superb 3D printed resin plus 2 PE wingtip faces.
Eduard's 1/48th scale Mitsubishi A6M3 kit is accurate and superbly detailed. The A6M3 is great right out of the box, but Eduard has produced some nice aftermarket parts for those who demand the utmost in accuracy.
I recommend these aftermarket sets and I would like to thank Eduard for the review samples.