Internet Modeler : New Releases : Aviation
RSS News Feed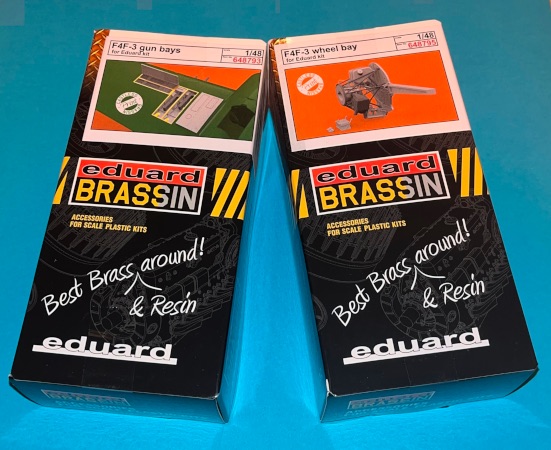 Eduard F4F-3 Aftermarket
Here are 2 new Brassin aftermarket sets for Eduard's F4F-3 kit. Let's take a look at them:
648793 F4F-3 gun bays
This is a pair of open gun bays for the 4 .50 cal machine guns. It consists of 28 parts. 18 of these are 3-D printed resin and 10 are photo-etch on a single brass fret.
You will have to open the gun bay scribed into each upper wing, assemble the gun bay itself with the ammunition belts and guns, and then drop the bay into the wing halves and glue them together. 3-D printing produces some of the most spectacular detail I have ever seen. What an amazing set!
648795 F4F-3 wheel bay
This is another tour de force of 3-D printing consisting of 13 pieces of wonderfully cast resin. The F4F-4 wheel bay was a complex area of the fuselage and the oil tank, landing gear, engine mount, engine accessories, etc. were all quite visible within it. A careful oil wash and drybrushing of the raised detail will pay dividends.
Eduard's Grumman F4F-4 is an accurate and well detailed kit right out of the box. These 2 Brassin sets raise the level of that detail to an amazing extent, giving you all of the elements of a contest winning diorama entry. I recommend these Brassin sets and I would like to thank Eduard for the review samples.