Internet Modeler : New Releases : Aviation
RSS News Feed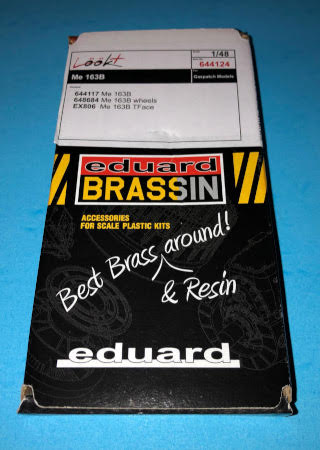 Eduard Me163B Komet Accessories
Gaspatch's new Messerschmitt Me163B Komet kit is superb right out of the box, and Eduard has introduced a new Look/Brassin set for it. This Look set combines 3 separate sets in a single box.:
644117 Me 163B Look
This set includes one of Eduard's 3D printed and colored instrument panels plus a set of pre-painted seat belts.
648684 Me 163B Wheels
You get a tailwheel plus a pair of superbly detailed mainwheels that are a definite upgrade over the Gaspatch kit's, which lack any tread on the tires.
EX806 Me 163B TFace
The Gaspatch Komet has a superbly detailed interior that cries out to be seen, so Eduard produced this mask set for both the interior and exterior of the canopy.
Conclusion
You can produce a great Komet right out of the Gaspatch box, but this simple Look set might just give you the edge to win at the next IPMS contest. I recommend this Look set and I would like to thank Eduard for the review sample.