Internet Modeler : New Releases : Aviation
RSS News Feed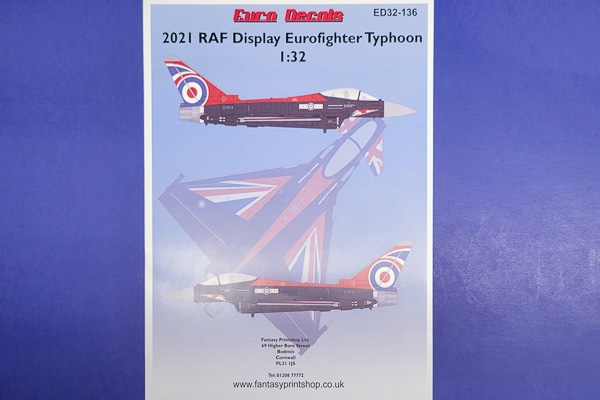 Euro Decals 1/32 2021 RAF Display Eurofighter Typhoon
Overview
The RAF's Typhoon Display Team is a popular sight at aviation displays and events across Europe, and for 2021 the team from 29 Squadron painted one of their aircraft (ZJ914) up in a colorful scheme promoting the British Union Jack flag. With the plane finished in an overall black color, the wings, tailplane, and canards all have red, white, and blue markings, making for a very colorful aircraft.
The Decals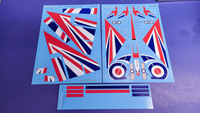 As this is for a 1/32 kit, there is no question that it's going to be a big decal sheet. In fact, to cover all the parts needed, this decal comes with two full-size A4 sheets, plus another strip with spare color strips and dashed lines for wing walkways. The design of this scheme means that there are lots of very large decals to apply, thus the big sheets. Given the size and simplicity of the scheme, though, along with the large scale, it might be better to use some of these as templates and just paint the large patterns.
Should you opt to go the full decal route, be ready to apply lots of decals, and decals on top of decals. You will have to match the red of the decals for painting the fuselage spine and vertical fin, and the white on the canards, but the rest is all done for you. Be ready for a long decaling session, though, as there are loads and loads to apply. For anyone who has built a special scheme aircraft model in the past, though, this is to be expected.
Conclusion
The quality of the decals are superb, and after applying them all you'll have one colorful Eurofighter Typhoon. The fact that this is a display aircraft means it's kept up to a high quality, so weathering should be kept to a minimum and that means the decals will shine all the more. My thanks to Fantasy Printshop for the review sample.