Internet Modeler : New Releases : Aviation
RSS News Feed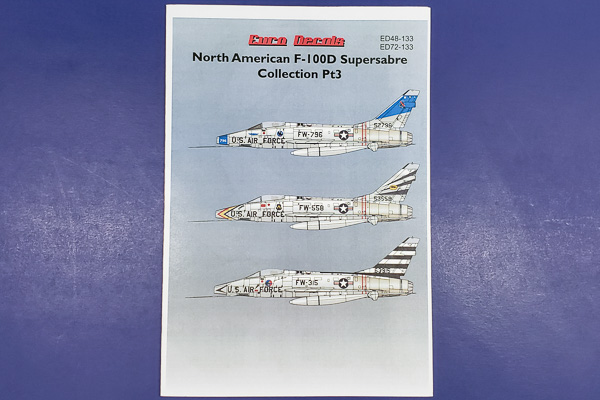 Euro Decals 1/72 North American F-100D Supersabre Collection Part 3
Overview
The third set in Euro Decals' coverage of the North American F-100D Super Sabre
is a bit different from the previous two releases in that it only has three options on the sheet. They are no less interesting, though, and this time they span the globe, with one each from North America, Europe, and Asia.
The Decals
Starting in the United States with the first option, this is an F-100D Super Sabre, 55-2796, flown by Captain Robert Maxwell of the 511th Tactical Fighter Squadron, 405th Fighter Bomber Wing, at Langley AFB, Virginia in 1959. This plane features a large part of the vertical fin painted blue, with three white stars and a unit emblem in the blue portion. A blue band is around the nose intake, and there's another unit emblem on the left forward fuselage.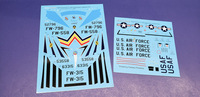 Crossing the Pacific, the second option is from Japan and is an F-100D Super Sabre, 55-3558, from the 35th Tactical Fighter Squadron, 8th Tactical Fighter Wing, based at Itazuke AB in Japan in 1960. This plane has three black chevrons on the tail outlined in white, with a unit emblem over the middle one. On the nose are chevrons in red, yellow, and blue, also trimmed in white, as well as the name "STINGER" in black. An additional wing emblem is on the left forward fuselage.
Spinning the globe yet again and ending up in Europe, the final option on this sheet is an F-100D Super Sabre, 56-3315, flown by Major C. Jones of the 492nd Tactical Fighter Squadron, 48th Tactical Fighter Wing, out of Chaumont Air Force Base in France in 1959. This plane features black and white stripes covering the entire vertical fin and a black chevron outlined in white on the nose. A squadron emblem is also on the left fuselage underneath the canopy, with a swoosh flowing off the emblem containing the pilot's name.
The decals are fairly simple and straightforward, and have excellent printing and alignment. In addition to the individual aircraft markings, the decal sheet also includes a set of generic markings and stenciling for a single F-100D.
Conclusion
The F-100 Super Sabre definitely had some colorful markings applied during its early years, and these sheets from Euro Decals are a nice addition to anyone wanting to build an attractive Cold War aluminum aircraft collection. My thanks to Fantasy Printshop for the review sample.