Internet Modeler : New Releases : Aviation
RSS News Feed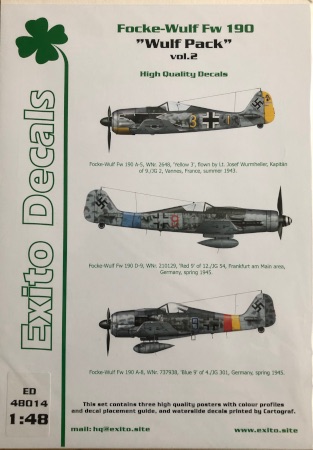 Exito Decals 1/48 Focke-Wulf FW190 "Wulf Pack"
This is a brand new 1/48th scale decal sheet from Exito Decals. It consists of 3 very different Focke-Wulf aircraft. They are as follows:
"Yellow 3," FW190A-5, Wnr. 2648, Lt. Josef Wurmheller, Kapitän of 9./JG 2, Vannes, France, Summer 1943. This A-5 was painted in the classic mid-War RLM 74/75/76 camouflage with an RLM 04 Yellow rudder and lower cowl. Earlier fuselage markings were overpainted with a dense 74/75 mottle and the rudder carried victory markings.
"Red 9," FW190D-9, Wnr. 210219, 12./JG 54, Frankfurt am Main area, Germany Spring 1945. This colorful D-9 had an RLM 75/83/76 fuselage with a dense 75/83 mottle and 81/82 wing camouflage. It had a light blue fuselage band and a black/RLM 70 Dark Green spinner. The forward spinner was black with a tight white spiral which terminated at the spinner rear halfway point. The tailwheel had a whitewall tire.
"Blue 8," FW190A-8, Wnr. 737938, 4./JG 301, Germany Spring 1945. This A-8's camouflage has been examined elsewhere and Exito's interpretation is quite different. They describe the plane as having the "blown" canopy and wearing RLM 74/75/76 camouflage with a very dense 74/75 mottle and an RLM 04 Yellow/23 Red fuselage band. The fin had large RLM 75 mottles and the rudder was solid 75 with 74 mottles. The spinner and propeller were RLM 70 Dark Green.
Cartograph of Italy printed the decals and they are top quality with tight registration. They are brightly colored and crisply printed with legible stencils. The decals come with a 2-sided color profile for each plane, with period photographs and a guide to applying the decals plus color call outs for AK Interactive and GSI Creos Mr. Hobby paints.
This is a first class product. All 3 planes are colorful and interesting. If you're looking for some cool markings for your next Focke-Wulf A-5, A-8 or D-9 here are some options worth considering. I recommend these decals and I would lilke to thank Exito Decals for the review sample.