Internet Modeler : New Releases : Aviation
RSS News Feed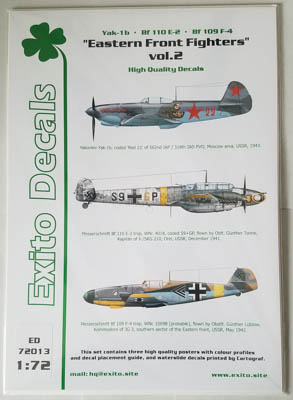 Exito Decals 1/72 Eastern Front Fighters, Volume 2
Overview
New to Internet Modeler, Exito Decals is a decal producer from Poland and they've released some interesting markings. For one thing, they have a series of decals not dedicated to just one type of subject, but instead an area of conflict, hence this release being "Eastern Front Fighters".
The Decals
There are three separate aircraft catered for in this release:
Yak-1b, Red '22' of 562nd IAP / 318th IAD PVO, Moscow area 1943
Bf 110 E-2 trop, coded S9+GP of Oblt. Gunther Tonne, ,6/SKG 210, Orel, USSR, 12/41
Bf109 F-4 trop, triple chevron, possibly of Obstit. Gunther Lutzow of JG3, southern sector , Eastern Front, USSR, 5/42
What is truly awesome about Exito Decals - aside from the decals themselves being printed by Cartograf, so you're ensured of their high quality - is the artwork that comes with the set. That's right, I typed "artwork" because that's what it truly is. Not a small black-and-white profile and maybe a top view, nor a color example of the same thing, but you receive an A4-sized piece of cardstock, with one side containing both side views (that's correct, starboard and port, not just one side only like most other decal manufacturers) while the other side of the cardstock contains top and bottom art, with notes on the specifities for that aircraft. In fact, this artwork is definitely worth framing once your model is finished.
If I had to complain, it would be only that the plastic sleeve the decals and art comes in is truly thin and icky. It only took opening the plastic for the plastic to completely tear away. Not good if you were hoping to save the decals and art in the same bag. The thing you'll have to do is use your own sleeve to store everything after you open the plastic sleeve.
But regardless of that, these are truly exceptional decal sets and definitely worth tracking down.
I definitely thank Exito Decals for sending this set to review.