Internet Modeler : New Releases : Aviation
RSS News Feed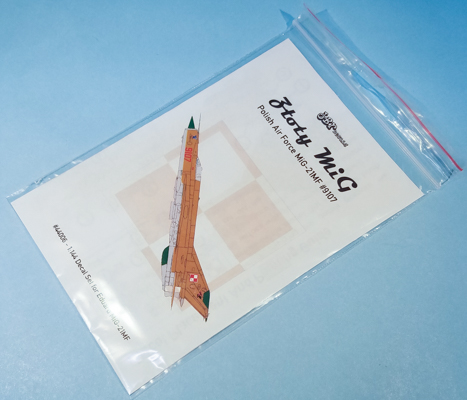 JBr Decals 1/144 Zloty MiG
Overview
STaken from the instruction sheet:
"MiG-21MF 9107 (s/n 969107) was assigned to 41st PLM (Pułk Lotnictwa Myśliwskiego – Fighter Regiment) in Malbork in 1974. There the aircraft served until it was reassigned to the 10th PLM in Łask in February 1990. In 2000 the 10th PLM celebrated 55th anniversary and 9107 was selected for celebratory golden paint job. Painted aircraft was presented for the first time in Deblin in May 2000, piloted by 10th PLM's C/O major Dariusz Pacek. The aircraft served with 10th PLM until all its MiG-21s were decomissioned in January 2003. It is now one of the exhibits of Kraków aviation museum."
You can find more information about the actual aircraft at the Polish Aviation Museum in Krakow's site."
The Decals
This decal sheet from JBr Decals is only for a single, MiG-21MF, serial number 969107, as she appeared in her special scheme of overall "gold" on the uppersurfaces. For the underside, it was left in its usual "aluminum".
You receive all necessary decals for this airframe and since it was overpainted, it doesn't appear to have any stencils left on it.
So, if - like me - you have a lot of Eduard 1/144 MiG-21s in your possesion, and you're looking for a unique scheme, it doesn't get any more unique than a MiG-21 painted in "gold".