Internet Modeler : New Releases : Aviation
RSS News Feed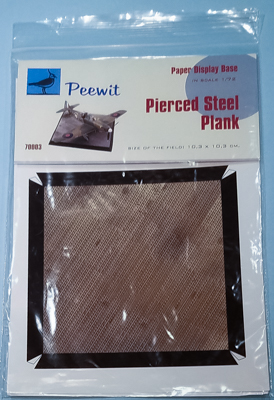 Peewit Paper Display Bases
Overview
Having a base for a model is not only a good way to set that model off, but also set that model apart from others when you're competing. There are also times when you want a base as the best way to handle a model - sometimes there are too many small parts you can knock off if you handle the model directly. Having something else to hold on to to move the model around is a good thing.
The Bases
Peewit sent a number of their Paper Display Bases in for review, both in 1/144 and 1/72. When they sent the bases, they only included the header card for the 1/72 Pierced Steel Plate and provided the rest of the bases inside the package for the Steel Plate. Peewit only provides the description and the scale on the header card, so some of these will be guess in the following image.
Peewit not only provides directions on how to create the base - which resides on the back on the header card - but also provides a construction video on their web site.
There is a process to "build" these bases, but it's not difficult. I provide pictures of this process. First you need to cut the base from the surrounding paper. You can either do this with scissors, or like I have done using a steel straight edge and a sharp knife.
Next cut the corners. First you'll need to place a cut so the corners can be folded, but you'll also need to cut one edge so it matches the edge of the base where the fold will glue to.
Once those cuts are made, then you need to score the base where the edges will fold. Peewit recommends using a "dull blade", but I used the tip of a file.
Finally you fold the tips and glue them to the other edge resulting in a raised base. Once it's all dry, then you have a finished base you can set a model on. While this is the 1/72 Grass base, I placed a Brengun 1/144 Kokusai Ta-Go on it because it's the type of model you don't want to handle directly.
Huge thanks to Peewit for sending the bases to review. Huge apologies to them too because I've had these to review for far too long. Sorry, Peewit!