Internet Modeler : New Releases : Aviation
RSS News Feed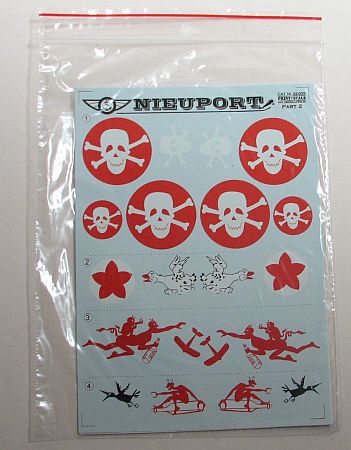 Print Scale 1/32 Nieuport Part 2 Decals
It's nice when aftermarket producers release items for older models. In this instance, Print Scale has released Russian Civil War (RCW) markings for the venerable Hobbycraft 1/32 Nieuport 17 and its derivatives (although I'm uncertain if anyone makes conversion pieces to make a Nie.24bis for the Hobbycraft kit). Decals are for the following four RCW aircraft:
Nie.24bis, 1st Air Squadron, Kostroma Plesetskaya Station, Northern front, November 1918: skull-and-crossbones national markings
Nie.23, Moscow Air School (MASh), Winter 1918: whit national markings, with a "duck" on the fuselage sides
Nie.24bis, 13th RAO "Kazanskoe", Sokologornoe Airfield, Northern Tautia, March 1920: markings on the fuselage sides are of a "devil" chasing an airplane
Nie.17, 13th Kazan Air Squadron, Sokologornoe Airfield, Northern Tautia, March 1920: fuselage sides markings are of a "devil" on a "bottle", chasing a "duck"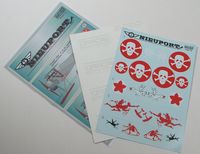 The decals, while matt, appear in register with decent colors. Not only are there decals with this release, but you also receive masks to create the "standard" red-star national markings (over white discs) on both wings – top and bottom of both – along with the rudder. All Nieuports are finished in aluminum dope.
If you're looking for different markings for your Hobbycraft Nie.17, then pick up this set. Especially if you can source a Nie.24bis conversion.
Thank you to Print Scale for sending the review sample.