Internet Modeler : New Releases : Aviation
RSS News Feed
Print Scale 1/48 MiG-17 Decals
Print Scale continues their release of 1/48 decals with this set of MiG-17s for the following aircraft:
MiG-17, '02', "Has been exposed in Kiev, 70"; finished in four-color camouflage on top with black undersides
MiG-17F. "The Participant intrusion into Czechoslovakia in 1968. The non-standard four-unit board number," blue '1611' finish overall in aluminum
MiG-17PF "of 146th Guard Air Regiment of USSR Air Defense Vasilkov, 1957", red '04' finished overall in aluminum
MiG-17F, "education aviation center, Grozne, 1977r.", red '27' in overall aluminum
MiG-17F "the senior lieutenant Nguen Van Raha from structure of 923rd fighter squadron of the Air Forces of Democratic Republic of Vietnam, June, 1966", red '2047' that had medium green uppers and light blue grey undersides
Shenyang J-5 (MiG-17F), red '2011' "of Ngo Due Mai, 923rd 'Yen The' Fighter Regiment, 12 May 1967" finished overall in medium green with white "splotches" over the entire airframe
Lim-6bis – the Polish version of the MiG-17F – "adapted for land attacks. Planes had additional wings pylons and the parachute container in the basis kill", red '429' that was finished in desert yellow, brown and aircraft blue on the upper surfaces, and aircraft blue on the undersides
MiG-17F, "One of two instant grasped by Israel on August 12th, 1968", desert sand and dark green on top, with light blue on the bottom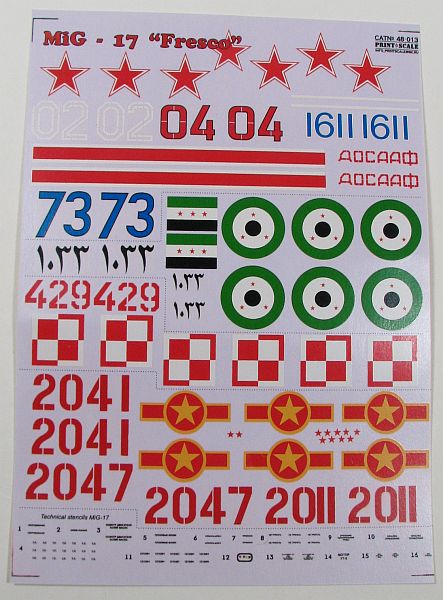 Decals are in register and nicely printed. While each aircraft only has a side view associated with it, there are multiple views to help with the placement of the stencils.
I truly wish all decal manufacturers would provide four-views (both sides plus top and bottom) for all their instructions. Granted I understand that would add slightly to the cost, since it's more paper, but at least there would be no guess work for the other aspects of the aircraft not covered in the instructions.
If you're looking for alternate markings for your 1/48 MiG-17 kit then definitely track down this decal set.
My thanks to Print Scale for providing these decals to review.