Internet Modeler : New Releases : Aviation
RSS News Feed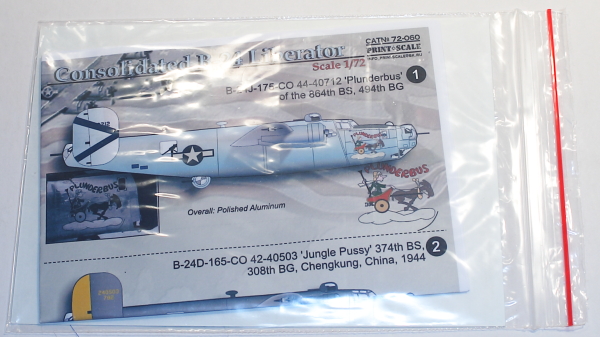 Print Scale 1/72 Consolidated B-24 Liberator Decals
There are two kits still current in 1/72 for the B-24, from either Academy or Hasegawa. I haven't seen the Hasegawa kit but I do have the Academy kit and it isn't a bad kit. In addition, Eduard released the Academy kit a couple of years ago, coupled with extensive photoetch and their own decals as well. So if you have any of these kits but are looking for different markings, here are the aircraft Print Scale provides with this release:
B-24J-175-CO, 44-40712, "Plunderbus", 846th Bomber Squadron (BS), 494th Bomber Group (BG) (overall natural metal finish (NMF))
B-24D-165-CO, 42-40503, "Jungle Pussy", 374th BS, 308th BG, Chengkung, China, 1944 (Olive Drab on top, Neutral Gray on the bottom)
B-24J-175-CO, 44-40737, "Wolf", flown by 1Lt C.K. Zimmerman, 867th BS, 494th BG (overall NMF)
B-24J-165-CO, 44-40434, B, "Betta Duck", flown by Capt Walter L. McAllister, 7th BS, 34th BG (overall NMF)
B-24H-10-FO, 42-52150, 33, "VENI, VIDI, VICI", flown by Lt Henry N. Silvers, 718th BS, 449th BG (Olive Drab uppers, Neutral Gray lowers)
B-24D-25-CO, 41-24302, "Boisterous Bitch", flown by Lt Robert D. Chambers, 493rd BS, 7th BG (Olive Drab, Neutral Grey)
Decals appear to be very nicely printed and in register. The colors are really outstanding. So if either of these tickle your fancy, then by all means pick up this decal sheet.
Our thanks to Print Scale for sending this to review.